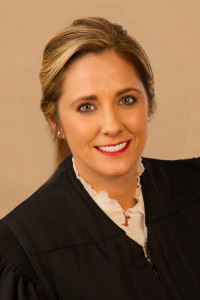 Judge Susan K. Weaver has announced her campaign for re-election to the 9th Judicial District Court, Second Division, which serves Faulkner and Van Buren counties, including courts in Clinton, Conway, Greenbrier, Vilonia, and Damascus. Prior to her election in 2012, Judge Weaver served as deputy prosecuting attorney for the 20th Judicial District serving Faulkner, Van Buren, and Searcy Counties.
In addition to her duties as District Judge, Judge Weaver serves on the District Judges Education Committee, which is responsible for providing continuing legal education to all the district judges statewide. She also serves on the Legislative Committee, which is responsible for legislative proposals that district judges feel may improve the administration of justice within Arkansas.
Shortly after taking office, Judge Weaver established the first Sobriety Court in the 9th Judicial District; a program designed to provide specialized treatment options for repeat alcohol offenders to reduce the likelihood of repeat violations. Her experiences as a deputy prosecutor taught her the importance of incorporating rehabilitation with incarceration to reduce the likelihood of repeat offenders.
"I'm excited to continue serving the people of Van Buren and Faulkner counties, the Sobriety Court programs, and the district judges' committees," Judge Weaver said.