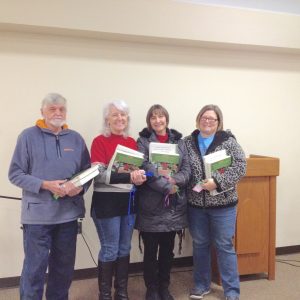 New VBC Master Gardeners (from left) Jim Morris, Jill Bailey, Edie Calaway, April Keeling. Not pictured is Linda Lewis.
by Cynthia Lacken
Master Gardener
VBC Master Gardeners met on January 9 for our monthly meeting and to officially recognize the class of 2016; April Keeling, Edie Calaway, Jim Morris, Jill Bailey and Linda Lewis (who was unable to attend). The new class was presented copies of The Southern Living Landscape Book and companion Garden Book. They were given a tour of Master Gardener projects in Fairfield Bay and will have a tour of the Clinton projects at next month's meeting. All new Master Gardeners (MGs) were assigned a seasoned mentor to support and assist them as they continue to learn about our organization and projects. Kathy Owens of Fairfield Bay was also installed as Vice President for 2017.
January is an important month for us as we plan our work for the upcoming year. Each project has a volunteer lead who will "own" their project or garden. And each project lead will look to the other MGs to volunteer to work on their project. For example, if you have an interest in herbs, you might volunteer to be on the herb garden committee in Fairfield Bay. There are many different projects available for volunteer work, from the plant sale to the butterfly garden and the VBC Courthouse in Clinton to the Ho-Wa totem pole at the entrance to Fairfield Bay. Something for everyone!
January also brings unpredictable weather to central Arkansas. One day it will be in the 70s and the next day it might plunge to the teens. The important thing is to be patient, remember to protect plants from the drastic temperature changes and be sure they have adequate moisture. Before you know it, it will be time to start spring pruning! In the meantime, enjoy the beauty of winter. If you have any questions about becoming a Master Gardener, please contact our president, Maud Huber at (501)884-6547.