by Jim & Phyllis Wilkins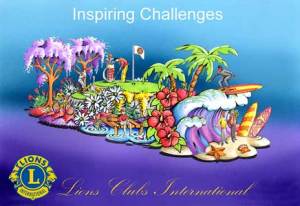 Pictured here is the Lions Clubs International float which appeared in the 126th Annual Tournament of Roses Parade held on January 1, 2015. The float, entitled "Inspiring Challenges," depicts challenging recreational activities that Lions around the world provide for hundreds of thousands of blind and visually impaired individuals. Some of these "Inspiring Challenges" include: Blind Fishing Derby in North Carolina, Blind Surfing, Blind Bicycling and Blind Buddies Golf Challenge (each held in California), Miracle League Blind Beep Baseball in Alabama and the Arkansas Summer Camp for the Blind. All of these activities are hosted and funded at least in part by local Lions Clubs or Lions State districts. Many clubs around the world provide these activities, not only for the blind, but for handicapped people as well. Fund raising activities such as BINGO and our pancake breakfasts help the Fairfield Bay Lions Club contribute to support our efforts in these areas as well as our other youth projects.
BINGO continues each Tuesday evening with doors opening at 5:30 p.m. and the first game called at 6 p.m. (weather permitting). Each week an overall game or blackout is played in progressive numbers with first prize being $1,000. The next regular meeting of the Fairfield Bay Lions Club will be Thursday, February 12 with dinner served at 5:30 p.m. and the meeting and guest speaker at 6 p.m.