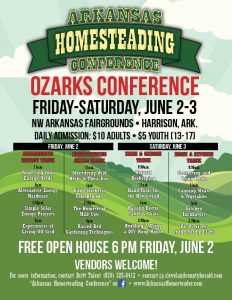 HARRISON, Ark. – Skills and information related to achieving a self-sufficient, sustainable lifestyle will be the focus of the Arkansas Homesteading Conference to be held this Friday and Saturday, June 2-3, at the Northwest Arkansas Fairgrounds in Harrison.
Britt Talent of Rison, organizer of the conference, said he likes to use the definition found on the online encyclopedia Wikipedia when defining homesteading: a "lifestyle of self-sufficiency… characterized by subsistence agriculture, home preservation of foodstuffs, and it may or may not also involve the small scale production of textiles, clothing, and craftwork for household use or sale."
"That definition basically sums up what we do – we try to bring experts together who can share on all those skills," Talent said.
The conference will consist of eight sessions each day featuring speakers from across the state. Session topics range from gardening and small farm livestock to food preservation and making herbal folk remedies.
Talent said that for the first time, the conference will be offering an entire four-session track dedicated to alternative energy. Speakers include Dr. Kate Shoulders from the University of Arkansas at Fayetteville and Flint Richter of Richter Solar Energy in Fayetteville. In addition, author Jake Beaty of the Memphis area will be sharing his experiences of growing up in an off-grid homestead in the mountains of Washington State.
Other presentations include raised bed/no-till gardening techniques, pressure canning meats and vegetables, identifying wild herbs and their uses, raising Dexter cattle, making a wild elderberry folk remedy, needle crafts and more.
The conference will be held – rain or shine – inside the exhibit buildings at the Northwest Arkansas Fairgrounds, 1400 Fair Grounds Road in Harrison. Daily admission is $10 for adults, $5 for youth ages 13-17, and free for ages 12 and under.
For more information, go to the "Arkansas Homesteading Conference" on Facebook or visit www.arkansashomesteader.com.