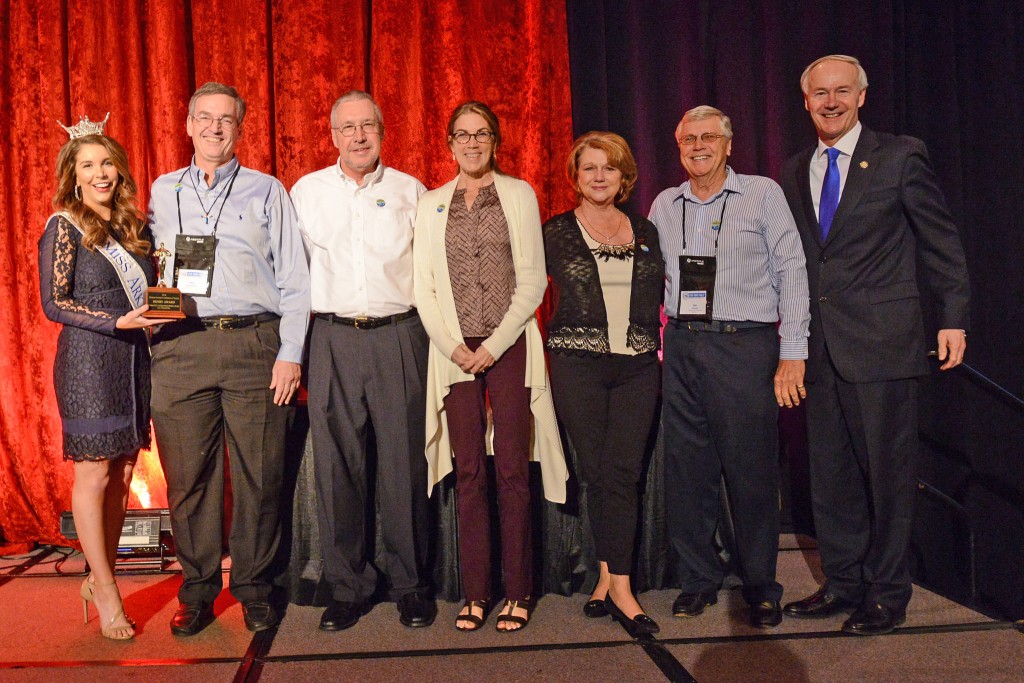 Fairfield Bay Wins Henry Award at Arkansas Governor's Conference on Tourism.
Fast Becoming an Arkansas Family Recreation Destination.
Arkansas tourism partners from across the state on Tuesday March 15th honored the 2016 winners of the annual "Henry Awards" during a luncheon at the 42nd Arkansas Governor's Conference on Tourism. Henry Awards honor individuals and organizations that have made important contributions to the state's tourism industry in the preceding year.
Fairfield Bay garnered the prestigious Community Tourism Development Award by achieving substantial success for their imaginative and innovation development efforts, resulting in creating a family recreation destination in the state of Arkansas.
"What an honor, and a fantastic validation of our achievements as a community. Five years ago, we came together and made a decision to initiate a marketing resurgence. From hospitality training, to a marketing plan, opening our Conference and Visitor Center, to the development of 9 new events and so much more. It's not just one thing, but the combination of all those things," explains Mayor Paul Wellenberger. "People come to Fairfield Bay because of our communication and advertising, but they come back again and again because our community delivers on a memorable and wonderful experience."
Governor Asa Hutchinson presided at the banquet and addressed nearly 500 attendees about tourism issues in Arkansas. Kane Webb, executive director of the Arkansas Department of Parks and Tourism, served as master of ceremonies and Miss Arkansas 2015 Loren McDaniel assisted in the presentation of the awards.
The 2016 Henry Award winners were:
Media Support Award: Arkansas Life, Little Rock
Bootstrap Award: Greater Searcy County Chamber of Commerce, Marshall
Arkansas Heritage Award: Arkansas Civil War Sesquicentennial Commission, Little Rock
Grand Old Classic Special Event Award: King Biscuit Blues Festival, Helena-West Helena
Outstanding Volunteer Service Award: Adam Davis, Mammoth Spring
Community Tourism Development Award: City of Fairfield Bay
The Natural State Award: Razorback Regional Greenway, Northwest Arkansas
Tourism Person of the Year: Tom Walton, Walton Family Foundation and RopeSwing, Bentonville
The Henry Awards have been a feature of the annual Arkansas Governor's Conference on Tourism since their debut in 1981. The awards are named for Henri de Tonti, founder of Arkansas Post in 1686, and who is often hailed as the first "Arkansas Traveler."
Be Part of the Awards Celebration.
Join Fairfield Bay community in celebrating our 50th Anniversary, where part of the days events will includes a presentation of the Henry Award. The
Announce City of Distinction award, Crew and Associates to present Recycle Center Award
Fairfield Bay's Recent Awards & Accolades
• Arkansas City of Distinction Awards – Quality of Life (2014), Green
Initiative (2015), – Arkansas Business
• Henry Award for Tourism Excellence (2016), – Arkansas Parks & Tourism
• Safest City in Arkansas (2015), – OnlyInYourState.com
• Happiest City in Arkansas (2015), – OnlyInYourState.com
• Master Gardener's Project of the Year (2014), – Univ. of AR Extension, VBC Master Gardeners
• An Arkansas Volunteer City-of-the-Year (2015), – Arkansas Parks & Tourism
• Trip Advisor Certificate of Excellence (2014 & 2015), – Little Red Restaurant
###
About Fairfield Bay, Ozark Mountain Lake, Resort & Community
Nestled in the Ozark Mountains and situated on the banks of beautiful Greers Ferry Lake, Fairfield Bay is one of the regions' premier destinations. The town was awarded the 2014 City of Distinction Award for its "Quality of Life" and ranked as the No. 1 Safest Community in Arkansas. Located just 75 miles north of Little Rock, Fairfield Bay showcases stunning mountain scenery, outdoor activities, interest groups, and friendly people who create a safe environment for an outstanding value. The mild climate makes Fairfield Bay the ideal location for lasting impressions year round.
Fairfield Bay, Arkansas, where friends come to Meet, Play and Live the Good Life.
To learn more about Fairfield Bay – www.VisitFairfieldBay.com, or call 501-884-4202.
NOTE: Link to TV spot