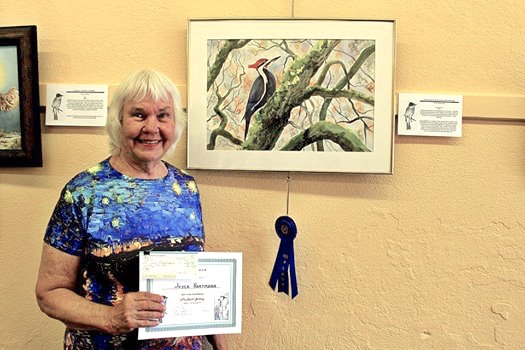 Choctaw artist, Joyce Hartmann, won First Place in the "Art for the Birds" exhibit with her large watercolor "Pileated Woodpecker," showing the bird looking up into a cloudy, rainy sky among a maze of mossy, fern-covered walnut branches. There were 47 unique original works of art submitted, with many for sale.
Joyce is a member of the Little Red River Audubon Society, docent at South Fork Nature Center in Choctaw, President of the North Central Arkansas Artist League, member of the Conway League of Artists and Mid-Southern Watercolorists.
Juror for the show was Guy Bell, renowned artist who has shown his work at Crystal Bridges and will soon have a solo show at the Arkansas Governor's Mansion.
Sponsored by the Arkansas River Valley Audubon Society, the exhibit will be on display through June 15 at the Rialto Gallery, 215 E. Broadway, Morrilton, from 11 a.m. to 2 p.m. on Fridays and Saturdays or by appointment with Exhibit Coordinator, George Hoelzeman, who can be contacted at [email protected] or text 501-416-0514.
A heavy hors d'oeuvres reception was held Sunday afternoon, May 17, which included live birds (cockatoos and an African Grey parrot), violin music by Bill Thurman, a talk on quail conservation by AGFC employee Clifton Jackson, and an awards presentation.