by Sheryl Paxton, Marina Manager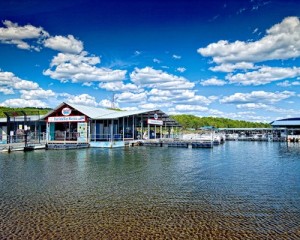 The activities and excitement of the busy Fairfield Bay Marina have not come to a close just because summer is over. Fun, excitement and things to do still abound at the marina. The Corporal C.G. Bolden Veteran's Barge has added a new element to our scope of activities.
In early fall, the University of Central Arkansas and the Arkansas Parks and Tourism Welcome Center area managers enjoyed cruises on "The Barge." Both were sunset cruises with a delicious meal catered by the Little Red Restaurant. The last Super Moon of 2015 was in October, and a great group of locals came to the marina to enjoy an evening on the barge watching the sunset and anxiously waited for the moon to rise and peek through the clouds, as they enjoyed a steaming pot of chili.
The events on the Barge are going to continue, so be sure to mark your calendar for these exciting events. On November 11, we will celebrate and say "thank you" to our local veterans and their families. Weather permitting, we will set sail from the dock at noon and hold a brief ceremony. Patriotic music and the all American snack, hot dogs, will complete the event. Seating is limited on the barge, so please call the marina at 884.6030 to confirm your seat.
The excitement continues on Saturday, December 5, when the marina will open the Christmas season with another new addition to our repertoire…a lighted boat parade! You will be able to view the parade from the docks while you enjoy hot chocolate, Christmas music and a visit with Santa. The best seat in the house will be on the Barge which will depart the marina at 4 p.m. The cruise will pass the breakwater, and the sunset will be an added treat for you as you wait for the lighted boats to pass directly in front of the barge. Local choirs will provide Christmas carols. Tickets for the barge seating is $10 per person. Entering a boat into the parade is FREE, and you can pick up a registration form on-line, at the Community Club office, or at the Marina. Again, seating is limited, so please call and reserve your seat.
Stay tuned for more excitement and fun! New activities, cruises and additions to our annual events are being planned through the winter for your enjoyment and fun!