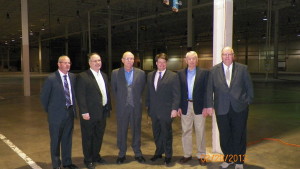 Pictured above is President and CEO of Global Food Group, Robbie Brown, Director of Van Buren County Economic Development Corp, Peter Giovannini, Co-owner of Global Food Group, Danny Thompson, Arkansas Economic Development Commision Executive Director, Grant Tennille, Clinton Mayor, Roger Rori, Van Buren County Judge, Roger Hooper.
State, City and County officials gathered at the old Volex building in Clinton, Wednesday, February 20 to hear about a major economic development for the city of Clinton and Van Buren County.
Global Food Group announced it will locate a new manufacturing and packaging facility in Clinton. The company will invest $4.7 million and create 224 new jobs in Clinton, where products such as retail sandwiches, quesadillas, tortillas and burritos will be produced. Global Food Group also packages a control brand of products from chicken tenders to all types of potato products, southern vegetables, breads, rolls, and biscuits. Global Food Group will locate in an existing facility at 245 Quality Drive, which the company is currently renovating.
"The Clinton facility will allow us to grow our brands as well as expand in other categories and product lines," said Robbie Brown, Global Food Group's President and CEO. "Global Food Group is excited about being a part of the Clinton community."
Founded in 2003 by Robbie Brown, Global Food Group has experienced double digit revenue growth annually.
"Arkansas continues to maintain a strong roster of companies in the food manufacturing sector," Governor Mike Beebe said. "An Arkansas-based company like Global Food Group recognizes that expanding close to home in Clinton helps build that momentum toward future success."
Global Food Group's customers include Associated Grocers, Super Value, Harps and Food Giant. The company is a subsidiary of Global Performance Group, which is headquartered in Cabot, Arkansas.
"We are elated that Global Food Group is coming to Clinton and Van Buren County," said Roger Hooper, Van Buren County Judge. "I'm confident that they will be a good community partner with us and that the company and its employees will prosper here."
Those interested in employment opportunities at Global Food Group's Clinton location can contact the Arkansas Workforce Center in Conway at (501) 730-9878.
For more information, visit www.globalperformancegroup.net.
County Judge Roger Hooper addressed the audience and was very appreciative of all the hard work that was put into this great acheivment and praised officials of state and local government as well as the Van Buren County Economic Development Corporation. "The county has been through setbacks in the past and this is a positive beginning for a promising future for the people of Clinton and Van Buren County," said Judge Hooper.