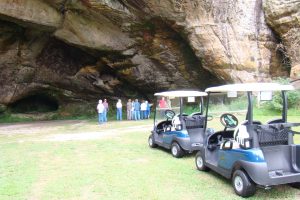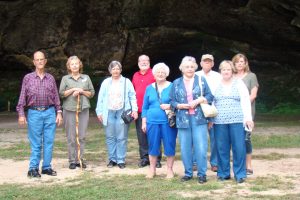 In 1542, Henri Desoto wandered past Indian Rock cave while searching for the fountain of youth and the fabled passage through North America and onto India. On Wednesday, a small group of nine explorers pulled into the Indian Hills complex and began their own journey. Their goals were more practical. They wanted to visit the museum, the log cabin and the cave, but to get to the cave, seven of the group would require transportation. Golf carts were provided by the Community Club to shuttle the visitors from the museum to the cave, but there were more visitors than available carts and drivers. As Marilyn Robertson, our museum curator, explained, "this group is typical of the type of tourists sI see daily during the off-season."
As Mike and Debby Doyle, two volunteers from the Fairfield Bay Community Foundation that served as drivers, were returning the golf carts to the golf course, a gentleman approached them in the parking lot. He wanted to know where he could get carts to transport his own group of five visitors to the cave. Fourteen new visitors to the Bay, and it wasn't yet noon on a Wednesday.
According to Mike Doyle, the Executive Director of the Fairfield Bay Community Foundation, the Foundation has recognized the need to address the transportation issue. "We can't rely on two-person golf carts to move people to and from the cave. The Community Club has been very responsive in supporting this need, but the need is for multi-passenger carts that can support the museum and other local events." The Foundation is seeking external funding for three such carts.