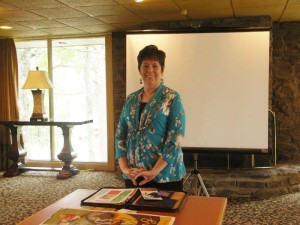 Alice Chambers has lived in Shirley since 1995 with her husband Larry and 3 dogs. Alice has worked at the 'Van Buren County Democrat' in Clinton for six years was also a freelance writer and the publisher of 'Life in the Ozarks' for 6 years. Her community involvement includes the Fairfield Bay Chamber, Eta Beta Sorority, North Central Arts Foundation, Little Red River Board member and member of the of the Kirk of the Hills Presbyterian Church. Now, of course, Alice is our library director.
Thus, at Rotary, we got an update of our Library Activities. As you know Alice Chambers took over Sarah Michael's position.
Alice said: "The Fairfield Bay Library is extremely thankful to the Fairfield Bay Rotary Club for making it possible to expand the Summer Reading Program. In addition to the 'Tommy Terrific' Magic Show on June 21, and the Horse Tales Literacy Program, the library is reaching out to children who are unable to visit the library during the summer months. Each Tuesday from 10 a.m. until 11 a.m. Director Alice Chambers and volunteers will take books in the back of a vehicle to the park next to the mobile home park on Beaver Road, where children will be able to check out books, get a library card, join the 'Dig Into Reading' Summer Reading Program – then return any books the next week and check out more books. This will continue through August 1. The Library also hosts the Fairfield Bay Book Group and welcomes visitors of Fairfield Bay to come to the library. Children and grandchildren may come and get a library card, at no charge through 18 and $5 for adults, where they can check out books, audio-books, and movies. Computers are available and there is free WiFi.