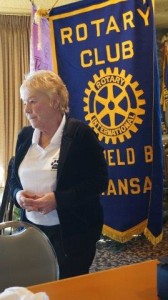 Linda Ritchie talked to Rotary about our Fairfield Bay Animal Shelter.
Linda was born in Minneapolis, the second of four daughters. How funny that she says she came to this world 9 months after her dad returned from WW 2 , where he was a captain in M.A.S.H unit in New Caledonia, in the South Pacific theater.
Linda graduated from a women's college preparatory boarding school in southern Minnesota in 1964, going on to attend the University of Minnesota, and was a member of Kappa Kappa Gamma sorority. Her parents did not have a son, so Linda was somewhat her Dad's "jock" and participated in many athletic endeavors, including competitive swimming and teaching skiing. Linda was also an avid sailor, enjoying many wonderful trips on Lake Superior.
Over the years her mother took her sisters and Linda on many annual fantastic trips: Hawaii (several times to the different islands), Tortolla BVI, Barbados, Mexico, and numerous cruises. Her mother died one year ago, missing her 100th birthday by 3 months. To carry on the tradition, her sisters and Linda took a Viking long boat cruise down the Danube early this summer, visiting Hungary, Slovakia, Germany and Austria.
She and her husband, Dale, retired in 2007 and moved to the Bay after many years in San Dimas, California, (in LA county). They were homesick for 2 years and returned in their motor home several times. They then joined EMS, Dale as an ambulance driver and Linda became an EMT. Then they finally felt "at home" here in the Bay. They retired in May after 5 years of service. Now her husband's volunteer hours include organizing golf groups and the shelter. He has been so supportive of Linda's total immersion into the world of saving animals and keeping the Shelter a vibrant part of our community. Together they have 5 grown kids and 8 grand kids, located all over the states.
Linda says: "Our mission is to provide the homeless cats, dogs, puppies and kittens a safe and healthy environment while reaching out to rescue organizations and the community to adopt or foster these animals. Our goal is that each animal find a "forrever" home. We provide medical care, spay and neuter through our chosen vet, socialization, and the Shelter has its own dog park, to ensure they all get lots of exercise. The cats have a screened in play room accessible through a window in their "Hotel." We just completed re-modeling our quarantine/infirmary area thanks to a grant we received late this summer. The new management and staff have done amazing things to the shelter and it's extremely clean and organized. Our adoptions and rescues have increased dramatically.
We participate in almost all the community activities such as Bloomin' in the Bay, Bay Fest, Octoberfest, Surf the Bay. etc. We take animals to these events as well as selling animal related items.
Our biggest worry (expense) is our vet bill. All the animals must be spayed/neutered and receive all shots before they can be released. Our funds are dwindling, therefore we are constantly trying to find new ideas for fundraisers.
We have partnered with the VFW for "Bingo for the Shelter" the third Sunday of each month. Doors open at 1 p.m. and we offer a meal, dessert and a soda/water for $5. The games begin at 2 p.m. and it's lots of fun. We hope for more participation from our friends here in the Bay."
The Animal Shelter needs our financial support. The shelter has a tremendous impact on the care provided for our homeless dogs and cats in Fairfield Bay. If we give support to the Shelter, our community can be proud of the care and love the animals receive. Our community needs the Shelter and they need our help to cover expenses such as food, litter, medications, veterinary services, maintenance of the van, building and grounds and cleaning supplies.