by Fred Hilsenrath/Rotarian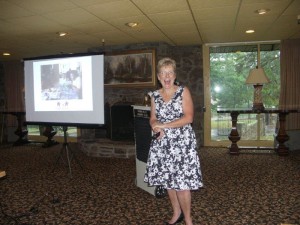 Jill Bailey gave us an interesting talk about early child development and the intense influence that has on later child interests and behavior.
Jill is originally from Iowa but worked for 33 years in St Louis, MO. Jill and Don moved here in 2011.
Jill's work now is with MIEWCH ,Maternal Infant Early Child Home visiting. The organization's grant is for Arkansas Home Visiting Network and Jill is the 'Parents as Teachers' consultant. Jill has a Masters in Early Childhood Education from the University of MO. Her work is about helping parents to understand critical parenting behaviors such as; guiding, supporting learning, nurturing, communicating, responding consistently and providing environments that support safety, discipline, health, nutrition and eagerness to learn. This is done by early childhood home visiting. The organization conducts personal visits with families that are at risk due to poverty, teen parent, immigrant families, incarcerated parent, lack of involvement by father, child abuse or neglect, and many other causes.