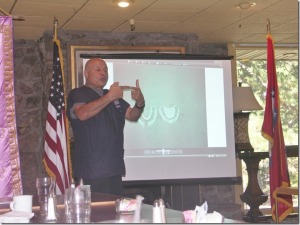 by Fred Hilsenrath
Dr. Hassan Bashiri gave us a fascinating presentation of his surgical face and dental work. He himself is deeply involved in his inventive procedures to save badly deformed faces; a result of illness or injury.
Dr. Hassan Bashiri was born in Iran and studied dentistry at the University of Teheran and has a certificate in prosthodontics from the University of Illinois. Dr. Bashiri also has a certificate in maxillofacial prosthodontics from the University of Pittsburgh, he is a member of 6 medical and dental associations all connected with facial anomalies. In addition to his intense professional life Dr. Bashiri enjoys various hobbies. One is musical performance; he even played at New York's Carnegie Hall as well as at the Versailles Palace in Paris and the Gibson Amphitheater in Los Angeles. He plays basketball, Racket Ball loves to run Marathon , loves snow skiing, climbing and swimming in our lake, he enjoys hiking and is a black belt judo fighter.
Dr. Bashiri talked to us about some of the complicated surgical and Prosthetic reconstructions he was involved in. As examples he showed photographs of the type of surgeries that must be performed for patient with very serious facial problems. The photographs he showed us looked quite impossible to work on, yet Dr. Bashiri invented tools to accomplish successful operations with amazing results. Dr. Bashiri is involved ARMOM (Arkansas mission of mercy) also with ADAMOM treating patients in need as well as treating patients at the Harmony clinic in Little Rock.
Dr. Bashiri moved to Fairfield Bay in 1989 He has two sons, one is a mechanical engineer the other is a student of mechanical engineering at Embry Aviation U. We are lucky to have a medical specialist and versatile man like Hassan Bashiri living with us in Fairfield Bay.