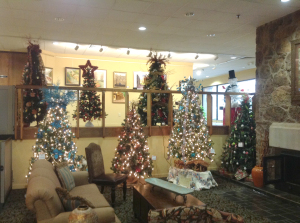 Fairfield Bay Chamber Launches Holiday Season with "Festival of Trees"
Events for Every Age Help to Celebrate the Season
 Fairfield Bay lights up the holiday season with a winter spectacular in their inaugural Festival of Trees event, Saturday, December 1 – 13, 2014. Fairfield Bay's Conference and Visitor Center is transformed into a wonderland of holiday elegancy and whimsy to suit any age, family or individual.
"Fairfield Bay community organizations, businesses and families have joined together to create this holiday festival," said Heather Dunn, Fairfield Bay Chamber of Commerce Director. "We've got all the twinkling lights, sounds and smells of this blessed season that you could need to get in the spirit and ready for some truly happy holidays."
Trees, Trees and More Trees
Explore this special forest of trees and leave inspired and ready for the season. Each Christmas tree is decorated from its starry tip top to its blanketed base. No two are alike and range from whimsical to traditional, from kid to pet friendly! One tree is a special Community Giving Tree, filled with wish lists of local families in need with information on how visitors can help.
Trees will be on display in the Conference Center December 1 through 13th from 9 am until 5 pm each day. Families are encouraged to bring cameras and capture their special photo. Each decorated tree will then be available for purchase at auction during the Festival of Trees auction and dinner.
What's on your wish list?
Santa has reserved his seat on Saturday, December 6. Located in the lobby of the Conference Center from 12 noon until 4 pm to visit with guests young and old alike! A professional photographer will be on site to take orders for prints. And be sure to get there in time to enjoy the Christmas Movie playing in the theater, starting at 1:30pm!
A Night for the Adults
Saturday, December 13 evening wraps up the festival with a silent auction, dinner and dancing, with cocktail hour starting at 5:30 and the festive Dinner, Dancing and Charity Silent auction from 6:30 until 9 pm in the Conference Center. Dress is cocktail or festive. Tickets are $25 per person in advance and $30 each at the door. Festival trees will be available for auction as will gift baskets, artwork and more.
Tickets & More Information
Festival of Trees will be held at Fairfield Bay's Conference, Art and Visitor Center located at 110 Lost Creek Parkway in Fairfield Bay. To purchase tickets, find a complete list of events and times and more information, visit http://somedaystartstoday.tv/cms/festival/ or call 501-884-4202. Funds raised through this event will fund Chamber programs and events in Fairfield Bay.