NCA Art Gallery Featuring Guest Eclectic Artist– Joyce Hartmann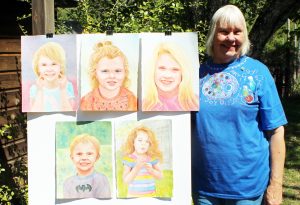 Joyce Hartmann is an eclectic artist, writer and photographer whose work is inspired by her travels as well as by the natural world surrounding her Choctaw woodlands home, where she lives with her biologist husband Bob. She participates in annual plein air events at Cotter, AR; and Steelville, MO. September Bob and Joyce celebrated their 60th anniversary with a 6,000 mile road trip to visit their two daughters in Oregon and also to paint in the Umpqua Valley Plein Air Event as well as the Tetons, Yellowstone Park, and the Redwoods. To celebrate the actual wedding date, Sept. 12th, they camped in a blizzard at Old Faithful, the last place they were single. (Back in 1956 Bob was a ranger there and Joyce was a soda jerk/barmaid for Hamilton Stores.) Joyce works in various media nearly every day, but she enjoys painting in watercolor and sketching in her sketchbooks the most. Sometimes to relax, she'll paint on barn wood, rocks, or bones.Recent art awards include Best of Show for an oil painting at the 2016 juried Spring Exhibit of the Conway League of Artists; 1st place for a watercolor in "For the Birds" 2016 exhibit in Morrilton; several $500 purchase awards at plein air competitions in Steelville, MO; Best of Show at County, District, and Arkansas State Fairs; and Signature Status with the MidSouthern Watercolorists Society in Little Rock.
She is Past President and current Vice President of the NCA Artist League, and a member of Conway League of Artists. A docent for South Fork Nature Center, she volunteered to paint and maintain 64 tree identification rocks along trails there.
"Some of my favorite works this year were watercolor portraits of our five great-grandchildren. I also enjoy drawing and painting landscapes, wildlife, flowers, and figures. I'm concerned about climate change and the environment, and find myself making art statements about those concerns. We all need to work together for clean air and water for our grandchildren and great-grandchildren."
Her work can be seen by appointment at her Choctaw studio or online at www.joycehartmann.com and on Facebook in public photo albums Art 2016, Art 2015, Art 2014. In addition to the NCA Gallery in Fairfield Bay, Joyce hangs her art locally in Clinton at Ozark Health Medical Center, at the Clinton Senior Center, Ozark Health Physical Therapy in Fairfield Bay, Greers Ferry Florist, and various locations in Conway.
CALLING ALL ARTISTS!!!
The North Central Arkansas (NCA) Art Gallery invites Painters, 3 Dimensional Artists, and photographers to submit works for the April 18 Art Exhibition in the Fairfield Bay Conference Center, 110 Lost Creek, Fairfield, Bay. The artwork is open to all artist eighteen years or older. Registration Forms are available at the Fairfield Bay Conference Center or e mail Charlotte Rierson, Art Coordinator [email protected] Deadline for registration form is April 3- Mail to Charlotte Rierson, P.O. Box 1643, Fairfield Bay, AR 72088, or drop off at the Fairfield Bay Conference Center. (Contact Charlotte for entry form).
About the North Central Arkansas (NCA) Art Gallery
The North Central Arkansas (NCA) Art Gallery's mission is to bring quality Fine Art to our community with good taste & family values. The artists are professionals as well as emerging new artists. The artwork is open to all Artist and chosen by a selection committee under the direction of Coordinator, Charlotte Rierson. Art Gallery hours are Mon. – Fri., 9:00-4:00 (unless special events then hours are extended). The viewing of the Art is open & free of charge to the public. All art is available for purchase.
The NCA Art Gallery is sponsored by the NCAF&E and the City of Fairfield Bay. For more information contact NCA Art Coordinator, Charlotte Rierson-501-884-6100, email [email protected] or Conference Center Directors, Wilba or Bob Thompson for more information- 501- 884-4202, [email protected], 110 Lost Creek Parkway, Fairfield Bay 72088.