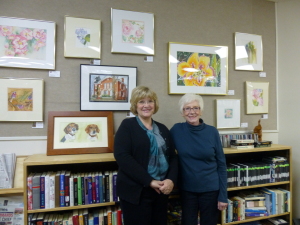 Diana Foote has had a lifelong interest in art and has enjoyed painting in various media since the early 1970's. Her favorite is watercolor, but she also paints in acrylic, mixed media and pastel. Diana began taking art classes while pursuing her nursing career in Kansas City. Since then she has taken classes and workshops from many nationally recognized artists in Kansas, Missouri and Arkansas. She has also taken several week-long workshops located on the coast of Maine. Diana enjoys painting from nature and using an abstract format. She is also an avid gardener and has a ready supply of flowers from her summer garden to use as subjects.
Diana is a member of the North Central Arkansas Artist League, and the Mid-Southern Watercolorist's of Little Rock. Her painting titled 'Seaside Waterfall' is included in the current Arkansas Art Center's traveling exhibit of paintings from MSW's 44th Annual juried Exhibition.
Bio Joan M. Bland
Although I've had no formal training in any art form, I've been fortune enough to surrounded myself with very talented friends and artists in the fields of photography, sculpture, flower arranging, set design, acrylics, and most recently watercolor. It was Diana's love of the art and her nurturing that convinced me to give it a serious try. She gave me pointers with brush selection, paints, paper, all the tools of the trade. Her critiques have been spot on and rather than discouraging this beginner, they have spurred me to make better choices and find my own voice in this field. I am blessed to call her friend and especially blessed to have her as my mentor. I first picked up a brush in March of 2012. I love painting with bright happy colors and am especially fond of painting animals. I am new enough at this art form that I often take on tasks far beyond my ability. I've learned from each risk. Every failed attempt makes me eager to try a new technique or challenge. I would be remiss if I didn't add my thanks to NCAAL for the Monday morning paint sessions dispensing oodles of information along with the coffee. A special thanks also to Alice Chambers, librarian and manager at Fairfiled Bay for inviting us to display our works.
This exhibit can be viewed March through May at the Fairfield Bay Library during regular hours:
1 – 4 p.m. Mon, Tue and Thur
9 – 4 p.m. Wed and Fri
10 a.m. – 12:30 p.m. Sat
To purchase a painting call or contact Joan Bland NCAAL exhibition coordinator at 785-979-5193.