NCA Art Gallery, Fairfield Bay Conference Center Feature Artist,
PhD | Professor Emeritus Linda Pledger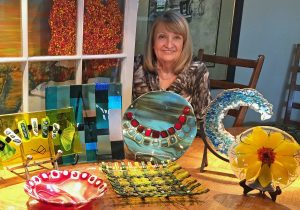 Linda and her husband Dr. Norman (Buddy) Pledger have had a place in FFB for over twenty years. While they have their studio in North Little Rock where they work on their artwork, they love to call FFB their inspiration and their happy place. The peace and serenity of the community and the lake opens the mind and heart to art possibilities that one has a hard time finding in the busyness of urban life.
Linda began her sojourn into fused glass several years ago by taking a weeklong class at John Campbell Folk School in North Carolina, where her love of the art form blossomed and spread back to Arkansas. She immediately started taking Fused Glass classes at the Arkansas Arts Center under the tutelage of artists such as Denise Kimbrough, Patricia Holifield, and Kim Lynch. From them she continues to learn the myriad of techniques that fused glass offers.
Her main inspiration is from nature, and her art often reflects the splendor of trees, leaves and water. She feels that glass is a way to bring the outdoors inside, where one can reflect on the magnificence of the earth. The breadth of colors and textures found in nature offer an artist's opportunities for expression that can be lush, bold, subtle, or stark. As Paul Cezanne expressed it, "If I were called upon to define briefly the word Art, I should call it the reproduction of what the senses perceive in nature, seen through the veil of the soul."
She and Buddy often collaborate on their work; he provides the painting and she provides the glass. While they do sell their work at venues such as the NCA Art Gallery in FFB, they donate much of their work to charitable fundraisers such as Arkansas Hunger Relief Alliance Empty Bowls, CARTI Festival of Trees, UALR Department of Applied Communication scholarships, and Hearts and Hooves. When they are not creating their art, Buddy is a Family Physician in NLR and she is a Professor Emeritus at UALR. She teaches courses in conflict management and managing public disputes as well as conducts communication workshops for local and state organizations in areas such as leadership development, emotional intelligence and crucial accountability. While her career has focused on fostering better communication among people, she has found that creating her art has sparked her imagination in ways verbal communication has not. Georgia O'Keeffe expressed it well when she said, "I found I could say things with color and shapes that I couldn't say any other way–things I had no words for."
They are also busy with their children, who are all teachers, and their grandchildren, who constantly teach them to view the world through the eyes of the innocent. Their family provides the motivation and the stimulus to continue to create. They both hope to retire next year from their chosen professions so that they can spend time with their family and on their art.
Because she has never seen herself as "an artist," she takes heart in the advice of Andy Warhol, "Don't think about making art, just get it done. Let everyone else decide if it's good or bad, whether they love it or hate it. While they are deciding, make even more art."
The North Central Arkansas (NCA) Art Gallery's mission is to bring quality Fine Art to our community with good taste & family values. Art Gallery hours are Tues. – Fri., 9:00-4:00 (unless special events then hours are extended). The viewing of the Art is open & free of charge to the public. All art is available for purchase. The NCA Art Gallery is sponsored by the NCAF&E and the City of Fairfield Bay. For more information contact NCA Art Gallery Coordinator, Charlotte Rierson-501-884-6100 or Conference Center Directors, Wilba or Bob Thompson for more information- 501- 884-4202, [email protected], 110 Lost Creek Parkway, Fairfield Bay 72088.