by Fred Hilsenrath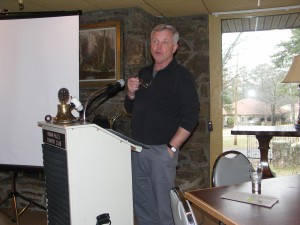 Last Wednesday Tom Welsh talked to us at Rotary about highway safety. Tom graduated from the University of Wisconsin in 1973 with a degree in Civil Engineering and did graduate work at Iowa State University. He taught highway planning and design classes at Iowa State University. Having spent 15 years as the Iowa Department of Transportation's State Highway Safety Engineer he developed a passion for taking business away from trauma centers and funeral homes in Iowa.
In 2004 Tom was awarded a national Award of Merit for his "outstanding leadership,innovation and dedication to safety initiatives across America ". He is the only State Safety Engineer to have ever received this award .The National Academies of Science send Tom to China last year after China requested a Safety Engineer come to Beijing to visit with their Safety Engineers.
Here is what Tom said: Last Christmas there were over 540 empty chairs at family dinner tables as the result of highway fatalities. If 540 residents died every year of the flu in AR it would be declared a public health epidemic, but we accept 540 highway deaths as the cost of mobility.
AR has the 2nd highest rate of highway fatalities per mile driven on rural highways than any other State in the USA except South Carolina. These are not all accidents, most are preventable crashes! Driver behavior is the primary contributing factor in over 90% of all fatal highway crashes.
A few low cost engineering roadway design elements can address many of these fatal crashes. 35% of AR highway fatalities occur at highway curves. More, bigger and brighter signing at curves would reduce those crashes by about 20%.
30% of AR highway fatalities involve a single vehicle running off the road. Shoulder rumble strips have been shown to reduce these run off the road crashes by about 35%.
20% of AR highway fatalities involve a vehicle crossing the center line and hitting an approaching vehicle . Center line rumble strips will reduce these head on crashes by over 55%.
Other proven strategies include: 1.Having motorcyclists wear bright clothing or installing bright high intensity head lights to assist older drivers in seeing the approaching motorcycle. 2.Targeting enforcement to corridors with a high number of drunk drivers, speeding or unbelted driver crashes. 3.Do more enforcement on 2 lane roadways and less enforcement on Interstate highways, requiring all occupants to wear a seat belt. We should not accept having the second highest rural highway fatality rate in the country. There is no excuse for accepting this level of loss of life and major injuries on AR highways.
Many residents also know Tom Welsh is as the nature loving leader on hiking tours. Tom has taken us on trails in our beautiful state that I never heard of.
Fairfield Bay Rotary
by Ralph Nollenberger
"Because of Rotary our children do not died anymore!" These powerful words of "Thank you!" were spoken to Rotarian, Joe Tournear, in a mountainside village high in the Honduran mountains. The village was down steam from other villages. You can guess what was in the steam that was the village's only water source. Central Arkansas Rotarians pooled resources to build a water project that would deliver fresh, clean water to this remote village in northwest Honduras. Thus began the talk of Joe Tournear, Joe Daily and Bob Wilson.
Joe, who lives and works in Heber Springs and is an assistant governor for Rotary district 6150, gave a wonderful presentation on water and education projects in Honduras. As a dyed- in- the- wool republican, Joe had always believed that poverty was a condition that individual's chose because of decisions they made. It is their responsibility to "pull themselves up by their own bootstraps" to escape the condition. The poverty Joe witnessed in the Honduran mountains altered that attitude. The people there had no bootstraps by which to pull themselves up. Along with many other Rotarians, church and civic clubs from the USA an effort to provide bootstraps is being made. The previously mentioned water project is a beginning. The schools in Honduras stop at the ninth grade for most of the population. Rotary is trying to change that by providing "advanced education" opportunities- high schools which will provide vocational training in welding, sewing, heating and cooling, cooking and other useful skills.
Rotary will continue to provide ovens, sewing machines, welding machines and other materials for these schools. Of course help is needed! Money and donated equipment are required. Joe told a story about how the city of Heber Springs donated a refurbished fire truck. He told how bundles of clothing were shipped to the area. Joe spoke about how humble and thankful the recipients of Rotarian aid were. "Imagine being so thankful that you would take a three hour bus trip just to say thank you to visiting Rotarians. That's how these mountain people are." Makes us proud to be Rotarians and glad to help.