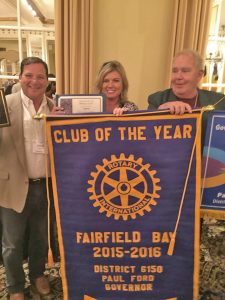 Fairfield Bay Rotary swept the awards at the 2016 Rotary State Convention this last weekend in Hot Springs. The local Rotarians were selected for the biggest prize of all: the Club of the Year in the State of Arkansas. They also won Most Improved Club of the Year, while Doug Landry was selected as President of the Year. None of those awards would have been grabbed, however, if the club had not first snared a Governor's Banner, which qualifies a club for all other awards. The banner is given on a point system that rewards membership growth and numerous civic accomplishments.
The local Rotary Club was recognized for its community service and for its long list of programs that aid Fairfield Bay and surrounding communities. Its members have raised $370,000 for scholarships over the past 27 years to aid area high school students who want to attend college.
In addition, Fairfield Bay Rotary has worked with several other organizations on community projects, including Master Gardeners, the Chamber of Commerce, the Boy Scouts and area high schools.
Rotary is always interested in adding more civic-minded residents to its roster. If you are interested in joining the fun and the spirit of our local Rotary Club please contact Doug Landry at 884-4000 or Thom Dillon at 884-4889.