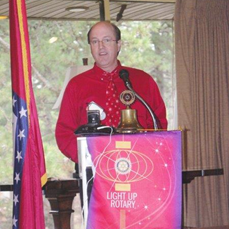 This holiday season we enjoyed a Gary Powell musical presentation at our lunchtime Rotary meeting. Gary is a native of Arkansas and is now Associate Pastor of Music and Outreach at the Fairfield Bay Baptist Church. Gary received a Masters of Arts degree in religion & education in church music from Mid-America Baptist Theological Seminary in Memphis, TN. Gary and his wife, Norma, a Michigan native, married in the same year. They have 3 daughters: Emily, Grace, and Bethany. Emily will be @ UALR pursuing a major in Int'l Relations and European Studies. Grace is a sophomore @ Ouachita pursuing a major in Kinesiology with a minor in Christian Studies. Bethany completed her first semester as a freshman @ OBU pursuing a degree in Fine Arts with a minor in Business.
Gary joined the staff of FFBBC in October of 2014 after serving 9 years in North Augusta, SC. The Powells have served churches in Arkansas, Tennessee, New Mexico, North Carolina, and South Carolina. In recent years, they have been ministering as often as they can in Romania.
Gary enjoys golf, nature photography, and the piano. His passion for leading in worship is found in his ministry verse, Psalm 40:3. "He has put a new song in my mouth, even praise unto our God. Many will see it and fear and trust in the Lord." Gary has a fine voice and sang for us and thus provided us at our meal with a spiritual ambiance.