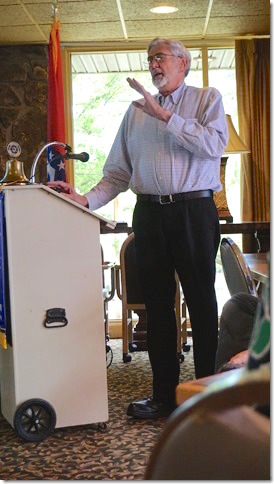 At rotary, we always find important issues to talk about. Sid Roberts talked to us about the loss of his home due to fire.
Sid grew up in Little Rock and is an Electrical Engineer by training, having graduated from the Univ. of Arkansas in 1965. He traveled the world while working for Conoco and retired in 1994. Sid and family moved back to Arkansas in 1995 and built the home that was lost in the fire. His wife, Mickey, and Sid will celebrate their 52nd anniversary very soon. They have three kids and four grandkids. Sid and Mickey consider themselves blessed that the family and grandkids live in Arkansas. Mickey and Sid both enjoy traveling and have visited all 7 Continents.
Sid has worked with Shirley Sutay for over 10 years as one of her crew who delivers Meals On Wheels in FFB. He served on the Board of the Little Red River Audubon Society for 10 years ,handling jobs such as Field Trip Chairman, Newsletter Editor, and President. He is Webmaster for the St. Francis Church Website and is also Financial Secretary for the St. Francis Knights of Columbus Council 8815.
Sid made some important points. Obviously, these are only needed in case of fire (which we think will never happen until they do). Better safe than sorry. Here are Sid's points
1. Make sure you have "replacement coverage" house insurance
2. Take photos of everything-including inside drawers & closets
3. Update photos of house furnishings on a regular basis
4. Buy a fire resistant safe for the house & put it in a convenient location so it will be used.
5. Rent a bank safe deposit box or arrange with family member to store digital records.
6. Keep receipts for major purchases , and all critical documents(passports, vehicle titles, insurance policies etc) in a fire safe box or bank.
7. Back up all login ID's and passwords and keep that too in a safe or bank.
Eleanor and I love a fire in our fireplace and are aware of the care we must exercise. We have the chimney cleaned often, have a screen and glass door in front of the fireplace and do not leave the room unattended unless all precautions are taken.