by Fred Hilsenrath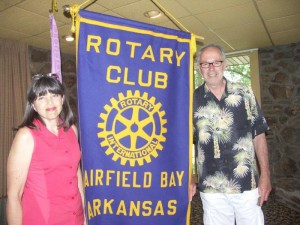 At this meeting, Debbi Brawley and John Conry came to Rotary to tell us all about the beautiful trails in our community. Paul Wellenberger, our mayor, joined our meeting to listen to Debbi's report since Paul is very supportive of attractive activity projects.
The trail system idea was explored and developed by a team lead by Debbi Brawley and John Conry. Debbi is the principal broker for Brawley & Associates Real Estate and John is the owner of Greyt Tymes Productions.
The Bay Trails is an exciting addition to the Greers Ferry Lake area. Located in the resort town of Fairfield Bay, these mountain biking, hiking and horseback riding trails offer gorgeous views of the lake, creeks and waterfalls, interesting rock formations and opportunities to see a myriad of wildlife. The Lakewood Mountain Bike and Hiking Trail, which was the first trail to be completed, is located across from the United Methodist Church on Dave Creek Parkway. It is approximately 5 miles long and is considered a moderate trail. The Mountain Ranch Mountain Bike & Hiking Trail, also about 5 miles and considered moderate, offers 2 large creek crossings, many smaller creeks and beautiful wooded areas. It has also been marked and is ready for use. Phase IV (yet to be named) is the only trail that has been designated as a horseback riding trail and is a gorgeous combination of creeks, beautiful wooded areas and is ready to be ridden. Phase II (yet to be named) is also on Dave Creek Parkway, is nearly 20 miles in distance and will be designated as difficult.
The ribbon cutting for the trails was held May 11, 2013 and there is already strong interest in the trails from local residents and visitors alike. There are plans to hold mountain bike races, adventure races and group rides. Maps are available at the Fairfield Bay Chamber of Commerce and Brawley & Associates Real Estate.
Additional info can be obtained by calling or looking at the web page listed below. Brawley & Associates Real Estate 8370 Edgemont Road, Greers Ferry, AR 72067 http://www.greersferrylake.net 501.206.6643