by Fred Hilsenrath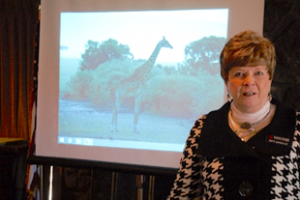 Patti Manville is the Tour Coordinator/Summit 55 Club and Assistant Vice President at the Eagle Bank in Fairfield Bay.
Patti is originally from Indiana but has lived in several different states before moving to Fairfield Bay in 1989. Many of her jobs have been leading up to the career at present because she has worked in the travel industry for many years, including working for Arkansas Department of Parks & Tourism at both the tourism and state parks division.
Patti has worked for the bank since November of 2000. At that time, it was Heber Springs State Bank. She was lucky enough to be asked if she would be interested in heading the travel club for the bank. After Patti learned about the job and its responsibilities and great travel opportunities she jumped at the chance to help grow the club and take people all over the world. Since that time the groups have travelled to many countries in Europe, explored North and South America, visited China and Africa and in November of this year, she will get to travel to Cuba.
Patti shared with us at the Fairfield Bay Rotary Club, her recent favorite trip to Kenya, Africa and the many adventures she encountered throughout the trip.
A visit to the game parks in Africa sets itself apart from most other travel destinations. Eleanor and I spent time in South Africa's Kruger Park as well as Victoria Falls. There is that special feeling about Africa that it seems to send us back to mankind's early existence with nature and animals. Patti shared that awe and enthusiasm with us while showing us many photos of wild animals in their free environment instead of Zoo cages.