by Fred Hilsenrath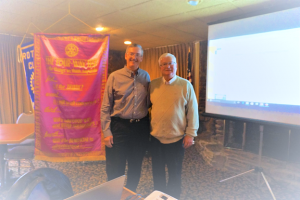 This is state of the union time of the year and so it is for our rotary club. The last two talks at our luncheon meetings were given by Fairfield Bay Mayor Paul Wellenberger and community club general manager Rocky Nichols. We are lucky to have these effective and competent men taking care of all our city problems. Here are a few of the highlights of Fairfield Bay improvements and plans for the coming year:
Tennis courts were resurfaced, 24 new boat slips were added at the Marina, the Hamilton Hills Sewer Processing Plant was refurbished, and the conference center hosted a number of meetings, dinners, weddings and performances. Fairfield Bay won a Green Initiative award, we are called a City of Distinction, and we added two solar powered compactors recycle bins. Fairfield Bay is building the Osage Point Town Homes; Rambling Cove Fun Park is completed with playground, basketball court and 25 miles of trails. Financial projections are encouraging, golf revenues have increased by 23% and Marina revenues have increased by 12%. It takes money to support our infrastructure, attractions and services. We encourage tourism and visitors
We advertise our attractions. Of course there is our beautiful lake with attractive landscape, there are water sports, or just boating up the rivers that feed our lake. There are bald eagles skimming over the water looking for a fish meal, then there are fishing, hiking on our trails, and particularly climbing up Sugar Loaf Mountain. There are tennis courts, a large public swimming pool, golf courses and even totem poles to view, carved by our local artist Jim White, now deceased. It sure is a fun vacation place.
As usual I have my own view of our Paradise. Eleanor and I came to Fairfield Bay in 2004. The San Jose area was called the Valley of the hearts delight. Orchards surrounded by mountains, clear blue skies, clean air, wonderful climate and good universities. It changed over the years. No more orchards, no more clear skies, bumper to bumper traffic, expensive living and stressful competition to make ends meet. I fled to Arkansas. I have taken pictures from our car of the empty road ahead and beautiful forest around us. The photo was titled: Rush-hour in Arkansas. Will our grandchildren still be able to enjoy our paradise?