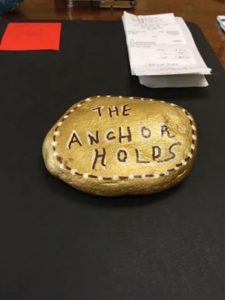 "Never believe that a few caring people can't change the world!" – Margaret Mead
If you walk around Fairfield Bay, you may begin noticing some inspiring messages in the most unique of places… painted on rocks and hidden along with way for you to discover and love.
MISSION –the mission of Fairfield Bay ROCKS is to
#1: inspire others
#2: motivate everyone to join the pursuit of inspiring others through kindness by sharing painted rocks AND
#3: provide an avenue for all ages to have an activity that they can take part in by spreading love and kindness to others.
To quickly learn how this all works, take a quick look at TheKindnessRocks Video: https://www.youtube.com/watch?v=e_iBnQ19Yhs
'Fairfield Bay Rocks' started when a group of friends were inspired by a similar program in Bolivar, MO, called 'Bolivar Rocks'. Almost immediately, Joyce Dobbs of Fairfield Bay viewed Bolivar Rocks on facebook to see how the program worked, and soon after a call was made to Susan DeNolf Sparks the Bolivar Rocks administrator. "She was gracious in explaining how their group began", said Dobbs, "offering advice and documents as a model for Fairfield Bay Rocks. We like to think of Bolivar Rocks as sort of our early mentor." Ms. Dobbs also talked with Megan Murphy, founder of The Kindness Rocks Project, who was also gracious in encouragement and ideas. The next step was in posting a note on Facebook to gauge interest in a local inspirational rock painting program here, and Fairfield Bay Rocks was formed. Organized under the leadership of Penney Johnson, Kimberly M Hudson-Walker, Linda Moore-Duncan and Joyce Dobbs, the group meets regularly to paint and put out messages of inspiration, hope and happiness. "We want the rocks to bring smiles, said Dobbs. "Perhaps some of the rocks will even bring encouragement to someone."
How can you join in?
Go to Facebook and look for FAIRFIELD BAY ROCKS- click join!. Those without facebook are also welcome to join. To do so, simply paint rocks with inspiration messages or picture and hide them where you think someone will easily find them. If possible, please ask someone to post them on Facebook at Fairfield Bay Rocks. (This is optional but brings more fun for the group when everyone can see the fun as it happens). "We are looking forward to many new members to join us," says Dobbs, "as we focus on our group's primary purpose which is to spread kindness to others."
Using the Facebook page "FAIRFIELD BAY ROCKS" as its hub, members of the group are inviting everyone to be on the lookout for painted and decorated rocks at public locations throughout FAIRFIELD BAY.
Photo cut line:
Bob Thompson has his new found rock on his desk as a paper weight and a reminder that "The Anchor Holds".