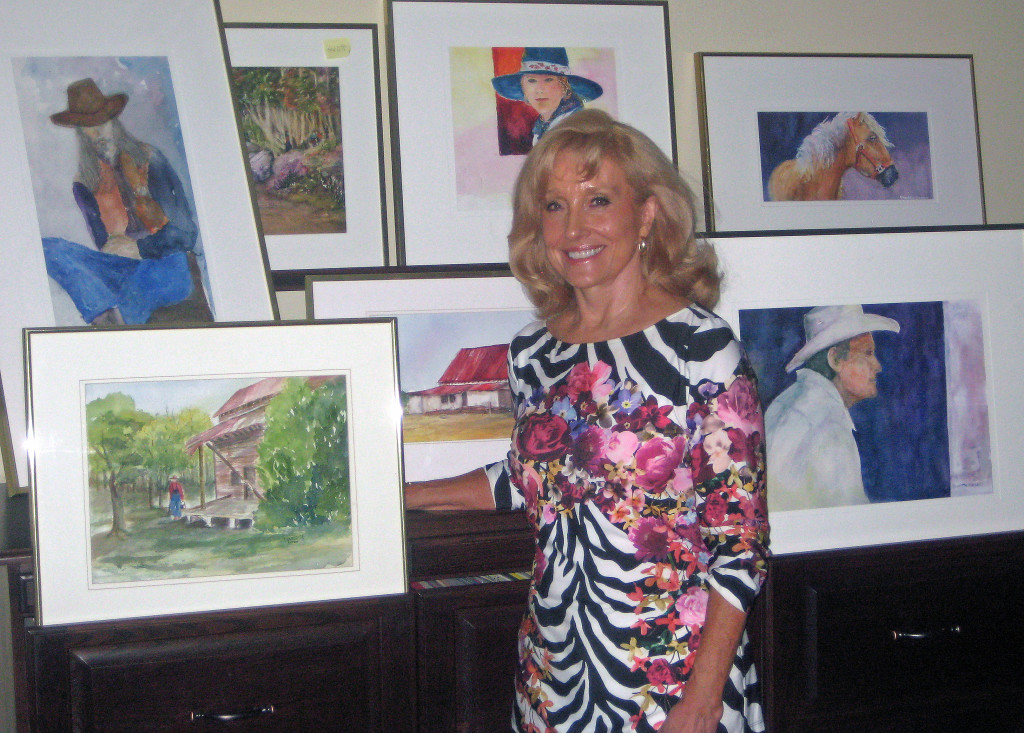 Pictured is Charlotte Rierson with some of her paintings showcased in the Art Exhibit.
Charlotte & husband, Don, moved to Fairfield Bay in 1992 from Frankfurt, Germany after Don retired his fighter pilot wings from the Air Force.
They loved this area and it was close to where Charlotte was from -Jacksonville (AR). Also they had children and grandchildren in the area. She taught Dance Arts for two generations and got her Bachelor of Science & Education majoring in art education from the University of Central Arkansas.
Charlotte trained in Museum Management and was a volunteer docent at the High Museum, Atlanta, Georgia and the Arkansas Arts Center, Little Rock. She has exhibited artwork in the National Capitol in Washington D.C., Arkansas Governor's Mansion, Clinton Presidential Library, Repertory Theatre, and throughout the state.
Charlotte has had One Woman Exhibits at Garvin Woodland Gardens, Hot Springs; Cleburne Co. Art Council Gem Theatre Gallery, Heber Springs; Ozark Heritage Art Center, Leslie, Indian Rock Village, Fairfield Bay and the Searcy Art Gallery. She has won numerous art awards and has artwork in the permanent collections of the Arkansas Historical Museum, University of Central Arkansas, Arkansas Art Councils Small Works on Paper, Ozark Medical Center, and the Clinton Presidential Library.
Her paintings were featured in two art books, the April issue of Arkansas Life Magazine, and the Arkansas Governor's Calendar.
She has been refered to as a mood setter and story teller. She says that when she moves from the real world into her studio she is entering her own private world. Charlotte designed her art studio where she integrated her love of the dance arts. There is a ballet barre and mirror¸ a large window over a beautiful scene of the lake, mountains and rock flower garden. She plays soft background music and has good lighting for her painting space. When she is painting she says, "I leave all else behind and concentrate fully on the present moment."
"This moment has been referred to as creating on the right side of the brain. I learned painting techniques using the left side of the brain. I usually start out with a plan- rough thumb nail sketch thinking about the values, colors, temperature, and focal point. After I have warmed up (similar to the dancer at the ballet barre or playing scales on the piano) I start painting and I loose myself in the moment. This is when my spirit, body and soul take over. I am then in the symbolic space of the painter's world."
She belongs to several art-related organizations and has been Past President of the Mid-Southern Watercolorists. She is an honorary board member and Signature Artist with the Arkansas Artist League. Her artwork has won numerous awards and hangs in public and private collections. She is a strong advocate for the arts. In recognition, she received the Arkansas Arts Council's Governor's Art Award in the area of Arts Community Development. She is the NCA Art Gallery/FFB Conference Center's Art Gallery Coordinator and exhibits her artwork in the gallery.
For more information of her work, visit http:/ /www.artspiritunlimited.com.
The Library Art Exhibits are sponsored by the North Central Arkansas (NCA) Artist League. Hours are 1-4 p.m. Mon. Tues, Thurs.; 9 a.m.-4 p.m. Wed, Friday; 10 a.m.,-12:30 Sat.