Fairfield Bay Launches Holiday Season with "Light Up the Bay
Kick off event for the 'Festival of Trees' Celebration
Charity Raffle offers chance to Win one of 8 BIG trips!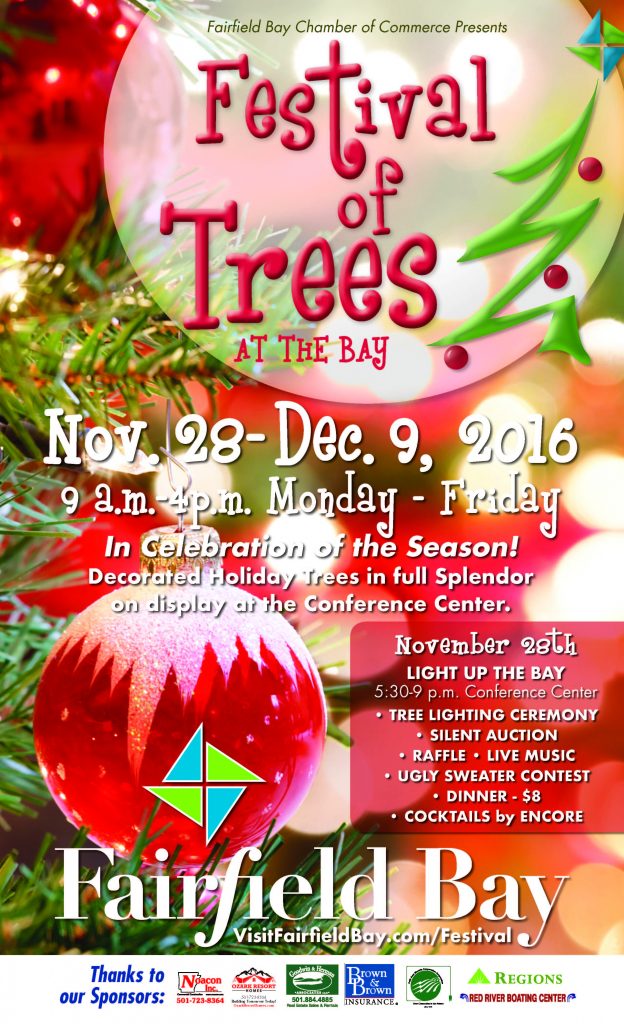 The holiday season in the Bay is a winter spectacular with the annual holiday celebration Festival of Trees, Monday, November 28th – December 9th, 2016. Fairfield Bay's Conference and Visitor Center is transformed into a wonderland of holiday elegancy and whimsy to suit any age, family or individual.
"It's amazing to see how the residents of Fairfield Bay come together to kick off the beginning of the 2016 Holiday Season," said Heather Dunn, Fairfield Bay Chamber of Commerce Director. "The feeling of community, the sights of all the trees and twinkling lights, and the smiles and laughter makes it feel all that much more festive."
November 28th – "Light UP the Bay" Season Kick Off, features 8 Big Trip Giveaways
It begins, with trees, lights and the warmth of friends and neighbors to start the holiday season just right.
There will be live music, food, your favorite holiday drinks, silent auction, the lighting of the Christmas trees, and the BIG TRIP GIVEAWAY!!! 8 trips to give away! Ticket booth will be set up for your change to win one of 8 BIG TRIPS to Tunica, Hot Springs, Eureka Springs, Little Rock, and Branson! Tickets are just $10 and a portion of the funds raised will go to help the needy in our area.
Trip Giveaway:
• Hot Springs: Hotel, Dinner & Show tickets for two.
• Branson: 2 packages of Hotel, dinner for two, and show tickets.
• Tunica Mississippi Casino: Casino Hotel, $150 food and free play!
• Eureka Springs: 2 packages of Hotel, breakfast and dinner for two, show tickets and more!
• Little Rock: 2 packages of Hotel, Dinner for two, show tickets and more!
Schedule for November 28th: Light up the Bay
• 5:30pm – The lighting of the trees
• 5:30 to 7pm – Silent Auction items available to bid on. Announcing the winning bidders at 7pm
• 5:30 to 9pm – Encore will serving up some wonderful Holiday Themed Drinks! $8 to enjoy warm soup and sandwiches!
• 6-9pm Live music
• 7pm -Ugly Sweater Contest. Mrs. Clause will do the honors of announcing the winner! Prize given!
• 8pm – "Big Trip Giveaway" Must be present to choose your trip. $10 to enter!
Santa can't make it to our party because he will be so busy getting gifts ready for all the boys and girls, but he is sending his wife, Mrs. Clause, to join in the fun! Come and help us kick off the Christmas season!
Trees, Trees and More Trees
Explore this special forest of trees and leave inspired and ready for the season. Each Christmas tree is decorated from its starry tiptop to its blanketed base. Most are sponsored by local organizations, ensuring that no two are alike and range from whimsical to traditional, reflecting the many personalities of the residents here. Be sure to cast a ballot for your favorite. And while you're there, look for the special donation box to help local families in need with your food bank donation.
Trees will be on display in the Conference Center Monday-Friday, November 28th – December 9th, from 9am until 4pm each day. Families are encouraged to bring cameras and capture their special holiday photos.
Tickets & More Information
Festival of Trees will be held at Fairfield Bay's Conference, Arts and Visitor Center located at 110 Lost Creek Parkway in Fairfield Bay. To purchase tickets for the Big Trip Giveaway, visit the Fairfield Bay Chamber of Commerce, www.ffbchamber.com. To find a complete list of events and times and more information, visit www.visitfairfieldbay.com/events or call 501-884-4202. Funds raised through this event will fund Chamber programs and events in Fairfield Bay.
Special thanks to all our corporate sponsors. We could not have this event without them. Corporate Sponsors: Noacon, Ozark Resort Homes, Goodwin & Herman Real Estate, Brown & Brown Insurance, Regions Bank, Red River Boating Center, and Petit Jean Electric.