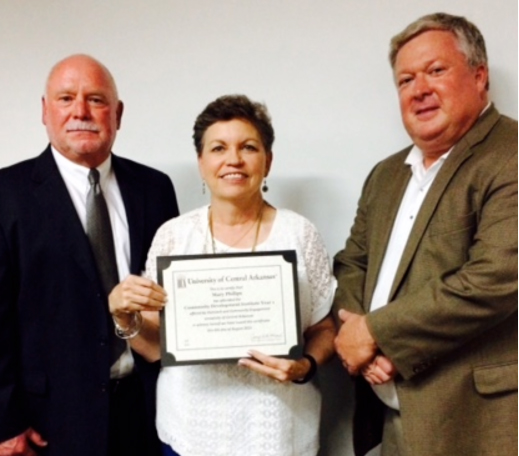 Justice of the Peace Mary Philips recently completed the Community Development Institute Year One training in Conway. Standing with her are class directors, Bill Luther (left) and Tim Climer.
Mary represents District 4, Fairfield Bay, Van Buren County. She was the only justice of the peace in the state who attended CDI One this summer. Fellow classmates were county judges, county clerks and other local government and state officials. In April, she also completed the Mid-South Basic Economic Development Course in Little Rock.
The University of Central Arkansas offers CDI Years One-Three. Mary is preregistered for the second year.
Justice Philips was elected to office in 2014 with primary objectives in community development for the city and county plus responsible/accountable management of Van Buren County operations. This year, she has devoted her time to professional education and active involvement in seeking workforce training opportunities. She is actively working toward fostering links with the University of Arkansas-Morrilton, small businesses, and the local student population. In addition to her seat on the Van Buren County Quorum Court and Economic Development Committee, she attends most Fairfield Bay City Council meetings as a non-voting observer.
Mary is the founder of the cancer project, Care Cap Connections™. Care Caps are made at eight locations in Arkansas and Texas and sent to 25 major cancer clinics across America. In 2011, she received proclamations by the Arkansas Senate and House of Representatives for her community efforts.