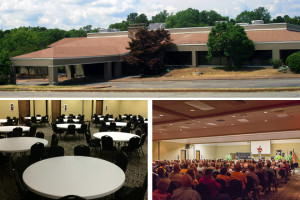 Fairfield Bay is proud to announce it has been chosen as a "City of Distinction" by Arkansas Business specifically awarded for its "Quality of Life."
Each year, Arkansas Business honors Arkansas cities with its City of Distinction awards. The awards recognize the successes of Arkansas cities as demonstrated by financial innovations, resourceful efficiencies, quality of life, improved public service and overall enhanced public trust and support. The award recipients are chosen by an independent panel of judges with expertise in each award category. The winning cities have demonstrated a commitment to economic development and quality of life for their citizens. The programs and initiatives they have developed and implemented are excellent examples of the success that can be achieved when community leaders work together.
"Our Fairfield Bay community is very excited to be recognized for our 'quality of life' by Arkansas Business," said Bob Thompson, Fairfield Bay Conference and Visitor Center Director. "With the opening in 2013 of our renovated Conference Center, we have expanded our town's attractions for residents and visitors alike. It's opening coincided with a brand launch and created a wave of activity across our city. There are so many more reasons now for people to see how special Fairfield Bay is to meet, play and live!"
The Center of the Community
Opened in 1978, Fairfield Bay's Conference and Visitor Center had an immediate economic impact on Fairfield Bay and Van Buren County. More importantly, it was a sustained impact. When the economy took a downturn in 2002, the Center was forced to close.
In 2012, the City of Fairfield Bay received a federal grant to renovate the Center. In true community form, Fairfield Bay citizens and businesses came together to raise further funds for interior restoration. In October 2013, the community celebrated a rejuvenated Conference and Visitor Center which has helped to further identify Fairfield Bay as a spectacular Ozark Mountain Lake and Resort Community.
Today, Fairfield Bay's Conference Center goes beyond a typical conference center. The facility features a theater where the community's "Our Towne Productions" theater group calls home and is the designated art gallery of the North Central Arkansas Art League.
The list of cultural events available for visitors and community alike has greatly expanded with the new Conference Center. Fairfield Bay has utilized the center's space through weekend and seasonal special events, often open to the public free of charge. They have increased their tourism through conference and convention traffic which in turn, supports the artist community and local businesses.
All the Amenities of a Five Star Resort
"It was with tremendous community support that helped to reopen our Conference and Visitor Center," noted Mayor Paul Wellenberger. "We always knew we had an incredible quality of life here – the natural beauty, resort golf and a premier marina, parks and recreation, the lake and our community. Over the last few years, this city has come together with exuberance and now hosts 6 year-round festivals and many events at the Conference Center, including the inaugural Festival of Trees this December. It is indeed an honor to be recognized. We're telling our neighbors in the state and beyond about our great jewel of a town."
Read the full article in the December 22nd issue of Arkansas Business.
http://www.arkansasbusiness.com/article/102340/fairfield-bay-conference-center-rebuilt-into-community-center-winner-in-quality-of-life-under-5000