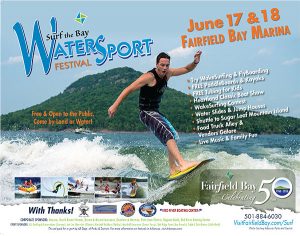 "Surf the Bay" – Making Waves Yet Again
Summer Celebration showcases more Adventure Sports with
Wakesurfing, FlyBoarding,Kayaking &PaddleBoarding
Join in the FIRST Wakesurfing Contest in Arkansas
— Come by land or by water —
Fairfield Bay is making waves yet again this summer when they bring some fun extreme and family sports events to the North Shore of Greers Ferry Lake, returning with the wildly popular WakeSurfing, FlyBoarding, Paddle Boarding and Kayaking, plus, family-fun Water Slides where you can "ride the wave". NEW for this year is a Heartland Classic Boat Show, featuring beautifully restored antique wooden boats from days gone by.
This June 17th and 18th, step into the summer sun and out into the clear fresh water and take your turn at "Surfing" the big waves or "Flying" above them in a water-powered jet pack, known as FlyBoarding. And this year, you can enter the first Wakesurfing Contest in Arkansas. Anyone can do it – from 8 to 80!
"Surf the Bay" will be held at the Fairfield Bay Marina. Free and open to the public, this event welcomes visitors of all ages to grab a board, jump a wave or "fly". Join the crowds in watching the professionals showcase their craft, or sign up and participate in three of the most popular and unique adventure sports in the country: WakeSurfing, FlyBoarding and Stand Up Paddle boarding. If the waves get too extreme, there's plenty of kayaking, tubing and other water and summer festival fun.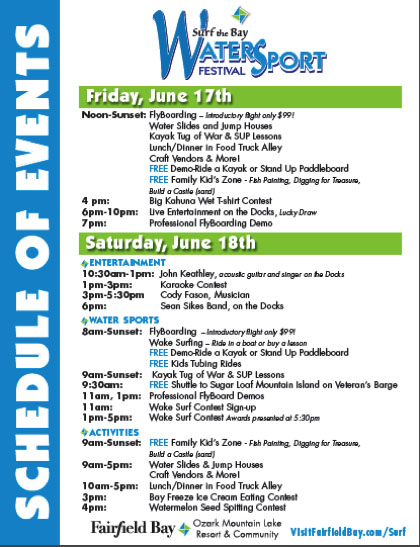 Wakesurfing Contest in Arkansas!
Join Stuckey & Grimes Xtreme Marine again this year, as they bring WakeSurfing to Arkansas. It's the only way to catch big waves in a fresh water lake. Fun big waves, no rope, and no hard falls! This fast growing sport is getting everyone in the water with its three to four feet swells. NEW this year is first Wakesurfing Contest in Arkansas.
• Ride Across the Water in Style
Some of the most exciting boats in the industry will be available for attendees to enjoy. From Stuckey & Grimes Extreme Marine, climb aboard the latest Malibu, Axis and MB Sport boats. These boats will be set up to let participants experience the thrill of WakeSurfing and WakeBoarding. Pro WakeBoarder Justin Worrell will be on hand to set up individual wake and surf lessons. "Our team is eager to share our love for outdoor water sports and showcase an exciting way to enjoy a fresh water lake," says Rick Stuckey, owner of Stuckey & Grimes Xtreme Marine.
Also on the water this year will be some beauties from Red River Boating, where attendees can enjoy kid's tubing and plenty of waterskiing.
• Try the Popular Paddle Boarding
If the waves get too extreme, make a real splash and try the popular sport of stand up paddle boarding (SUP). Frank Wimberly, of Sulphur Creek Outfitters will be on hand to help get you started. Stand up paddle boards offer a great way to take advantage of the water and get a fun workout at the same time. Guests can jump in and enjoy many of our friendly competitions such as Kayak Tug of War going on throughout the day. Or grab a Kayak for more classic paddling fun.
• You Can Even FLY!
FlyBoarding is the newest popular extreme water activity and "Surf the Bay" was the first place ever to showcase FlyBoarding over freshwater. Don't miss this! "Like something out of this world, or at least a comic book, FlyBoarding is the use of a water powered jet pack to fly above water, said Gretchen Vance of Aquafly. The propulsion power actually comes from below the user's feet, giving more of a skateboarding feel to the ride. Hand nozzles help to stabilize and manage power. Aquafly FlyBoard will have demonstrations Friday and Saturday. Lessons will be available for a discount.
Vance adds, "FlyBoarding is easier than you may think. Most people pick it up rather quickly. Our certified instructors will be at "Surf the Bay" to teach those interested."
The Weekend Events: Friday June 17th and Saturday 18th
"Surf the Bay" is free and open to the public. All events and activities will be held at the beautiful Fairfield Bay Marina on the North Shore of Greers Ferry Lake.
"Surf the Bay" will kick off with a big beach party Friday night June 17th, featuring live music, water games, dinner, refreshments and more. Activities start early Saturday morning, June 18th. Enjoy food vendors, hiking at nearby Sugar Loaf Mountain, and plenty of outdoor activities on land and fun in the water.
"What will make this day like no other," says Paul Wellenberger, General Manager of the Fairfield Bay Community Club. "We'll be watching the thrilling stunts and tricks of some top professionals, see a man "fly", ride on some top-of-the-line boats and marvel at the classic antique boats. This event is tailor-made for families and individuals who love the water and want to experience all an Ozark Mountain Lake has to offer – on stunning Greers Ferry Lake."
Stay and Play in The Bay
Coming for the festival? Make the most of your time in beautiful Fairfield Bay, and stay for the weekend. Your home base for information, vacation planning and relaxation.
• Reserve a boat, tee time, tennis court or dinner
• Catch a boat shuttle to Arkansas' Only Mountain Island trail
• Find a hiking or biking trail from one of Fairfield Bay's 8 trails
• Lodging for a week or a weekend
Your personal concierge is able to do it all. For more information on "Surf the Bay" and to discover all the "Good Life" has to offer, go to www.VisitFairfieldBay.com/Surf, or call 501-884-4202.