Thanks to all who attended our first food and wine dinner. It was such a pleasure watching and listening to you as you enjoyed your meal. The entire staff put a lot of work into making the dinner a success. Newspaper volunteer, Willa Wells, did a tremendous job of decorating the room. Mrs. Peterson of Clinton provided the travel posters. Thanks Willa.
Thank you to Bob Connell of KFFB for spreading the news. Thank you, also, for supporting our efforts. Hope you enjoyed your dinner.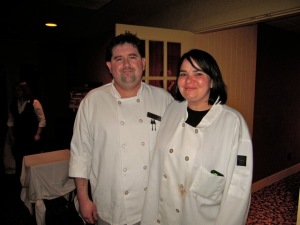 The first photo is of Chef Clint and Chef Laura. Chef Laura is a friend and former classmate of Chef Clint's who came and helped Chef Clint and add the "feminine touch" to the food presentation. Chef Laura came from Paris to help. (That's Paris AR where she has just opened LB' Cakes & Sweets). Hate to tell you this but her specialty is bread pudding. If you are in Paris stop by, have lunch or coffee and bread pudding with her, and say you heard about it from the Mayor of Totr'ville. As an old boss used to tell me, Chef Clint "put his best food forward". Kudos to Chef Clint and his staff.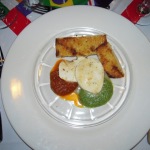 The next photo is the Italian antipasto plate – grilled baguette with marinated mozzarella and a sundried tomato pesto (Chef Clint's creation) and a basil pesto. Barton & Gustier Vouvray wine was served with the antipasto.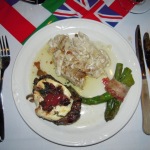 The third photo is the entrée – Italian Caprese filet another of Chef Clint's creation. It was so juicy and tender it melted in your mouth (I had a small sample). French Dauphinois potatoes (no calories) and American grilled asparagus accompanied the filet. The potatoes were baked in a spiced heavy cream sauce. Again, the filet was served with a special wine – Vigneti del Sole Montepulciano d'Abruzzo.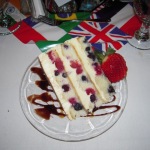 Chef Clint brought the dinner to an end by serving tiramisu and amaretto coffee. You cannot say anything but "oh, my God" the tiramisu was so good.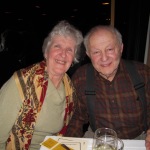 The Hilsenrath's are the smiling happy couple. Mrs. Hilsenrath took Mr. Fred on a European tour for his 86th birthday. Thank you for spending part of your special day on our dinner tour. Thank you for graciously toasting our gathering in French and English.
Again thank you all for making our event a success.
I will keep you posted on future dinners. If you have a calendar or your Smart Phone handy, you can mark these dates.
February 14 – special Valentine menu
February 17 – Mardi Gras dinner featuring all Cajun foods
March 14 – Disc golf tournament with a keg party and steak night
April 14 – tax preparation party
April something – food and wine dinner
That is as many pages as I have turned on my calendar. Stay tuned for more details.
Thanks again and hope to see you soon.
Roxie Chef Clint
Mayor, Totr'ville Governor, Totr'ville