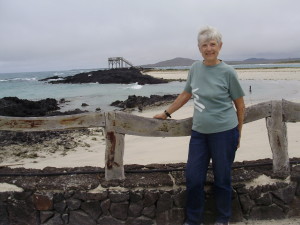 Carolyn Goettsch of Edgemont recently toured Ecuador with a group of California volunteers for Heifer International. Working with farmers in Ecuador since 1954, Heifer volunteers conducted an agro-ecology field study of Heifer's community development of small scale rural Ecuadorian farmers.
Among the projects visited were banana farms, guinea pig and chicken farms and vegetable seed producers. The local fishermen took visitors on their boats to experience catching fish using handmade fishing nets. With training from Heifer International production on the Ecuadorian farms increases and farmers are able to practice organic farming and improve the rural community. The farmers will then transport the organically grown produce, local fish and animals to the open air farmer's markets to sell. Goettsch said, "Visiting the local farms and people of Ecuador and seeing Heifer's work was wonderful educational and learning experience."
"Heifer International's mission is to work with communities to end hunger and poverty and care for the earth. By giving families a hand-up, not just a hand-out, we empower them to turn lives of hunger and poverty into self-reliance and hope.
With gifts of livestock and training, Heifer projects help families improve their nutrition and generate income in sustainable ways. We refer to our animal donations as "living loans" because in exchange for their livestock and training, families agree to give one of its animal's offspring to another family in need. It's called Passing on the Gift – a cornerstone of our mission that creates an ever-expanding network of hope and peace." (Quoted from Heifer International web site)
Heifer International is a nonprofit organization with headquarters in Little Rock, Arkansas.