by Arkansas Business Staff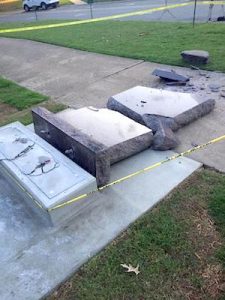 The Ten Commandments monument installed outside Arkansas' Capitol on Tuesday has been destroyed.
Arkansas Business news partner THV 11 News reports that a 32-year-old man drove a vehicle into the monument at about 5:15 a.m. Photos at the scene show the monument laying in pieces.
The Arkansas Times and other news outlets report the suspect is Michael Reed of Van Buren, charged with defacing objects of public interest, criminal trespass on Capitol grounds and first-degree criminal mischief.
Workers installed the monument Tuesday, two years after lawmakers approved a measure permitting the privately funded statue on state grounds.
The 6-foot-tall, 6,000-pound monument was on the southwest lawn of the Capitol. A 2015 law required the state to allow the display near the Capitol, and a state panel last month gave final approval to its design and location.
"We have a beautiful Capitol grounds but we did not have a monument that actually honored the historical, moral foundation of law," Republican Sen. Jason Rapert, who sponsored the measure requiring the monument's installation, said.
The American Civil Liberties Union said it planned to file a lawsuit in federal court challenging the display, calling it an unconstitutional endorsement of religion by the state. The group said it did not have a timeline for filing the lawsuit.
Arkansas' monument was a replica of a display at the Texas Capitol that was upheld by the U.S. Supreme Court in 2005. The court that year struck down Ten Commandments displays in two Kentucky courthouses.
The Oklahoma Supreme Court ordered the removal of a Ten Commandments display from that state's Capitol in 2015, and the state's voters last year rejected an initiative aimed at allowing the monument to return.