This Could Be A Movie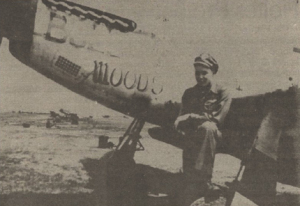 Flying only 50 feet above ground and just clearing the tree tops, First Lt. William A. Grusy, a P-51 Mustang pilot (and former Fairfield Bay resident) was the first man to confirm American Army suspicion that the Germans had blasted the flood gates of the big Schwammenauel dam. Lieutenant Grusy was with the Ninth Air Force tactical reconnaissance group in Belgium.
The dam on the Roer river had not been captured by the U.S. ground troops and Lieutenant Grusy flew his Mustang on a daring tactical reconnaissance mission in blinding rain squalls to bring back his visual findings. Because of extremely low clouds and poor visibility, Lieutenant Grusy, veteran of more than 50 tactical reconnaissance missions, had to "hit the deck" and stay there. The overcast was so low that one approach from the north failed, as it was impossible to fly over the Hurtgen forest without using instruments. Lieutenant Grusy flew alone because the hazardous conditions would allow little or no teamwork.
Grusy's World War II P-51 Mustang was named "Bull of the Woods."
– Taken from a Fairfield Bay NEWS article, March 2, 1995