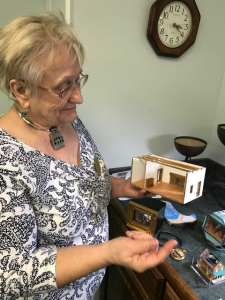 Davis Special Questers met Thursday, January 19 at Eagle Bank in Fairfield Bay. Fran Schroeder presented a fascinating program titled "Miniatures, It's a Small World." Fran explained how these tiny vignettes are constructed. Fran and her husband Ray have travelled to museums and expositions featuring beautiful scenes of homes and gardens. They shared with the ladies, an interesting video from the Miniature Time Machine Museum in Tucson, Arizona.
In the picture, Fran is showing a miniature room she is building. Following Fran's presentation, the ladies enjoyed some delicious desserts furnished by co-hostess, Bonnie Tatum.
President Lea Berry presided over the business meeting. Most of the meeting was devoted to discussions of the upcoming State Convention that will be held in Little Rock in April.