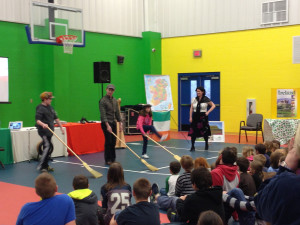 "Cead Mile Failte" – "A hundred thousand welcomes" to the Emerald Isle, where music, history and heritage are delivered in a colorful exciting and fresh medium by Dearbhail Finnegan and Robin Slater from Ireland.
The Cultural Kaleidoscope brought a spectacular and colorful education program to Kindergarten through Sixth grade students at Shirley Elementary. In this program the native dance was brought to life by the rhythmic footwork and colorful dance costumes. The presentation was spirited and the music of the Irish harp and traditional drum, the bodhran, recalls for the audience all the magic and spontaneity of Irish traditions and customs.
In the assembly and workshops students had the opportunity to experience an Irish jig, learn the Gaelic alphabet and join in with an Irish folk song. A live demonstration of Ireland's folk instruments…harp, tin, whistle, bodhran, concertina, Irish wooden flute and Uillean pipes… combined with a multimedia experience presented by the group dressed in traditional Irish costumes.
The Irish Kaleidoscope experience left students (and teachers!) feeling as if they had just been to a "Seisiun" – a gathering of people for traditional Irish music, song, dance, storytelling and laughter.
The presenters were Dearbhail Finnegan and Robin Slater, husband and wife team from County Meath, Ireland. Both professionals in the arts, Dearbhail has won many competitions and performed in Germany, England, Scotland, France and the United States. In 1999, she had the honor of playing for President Clinton at the White House for the 50th anniversary of NATO. She has many solo albums to her credit and is the featured harpist at Silver Dollar City in Branson, Missouri.
Robin Slater was trained at the Royal Ballet School in London, England and has performed in many London West End theater productions and television shows. He developed an interest in traditional Irish music and instruments after he met his wife and has played in major festivals, concerts, and events in Ireland. The Cultural Kaleidoscope offers programs about Russia, Ireland, Australia and Ukraine. For more information, contact: Margie Tritt, Program Coordinator The Cultural Kaleidoscope PO Box 33007 Kansas City, MO 64114 *The students at Shirley Elementary would like to thank the Arkansas Arts Council for continually making events such as these possible.