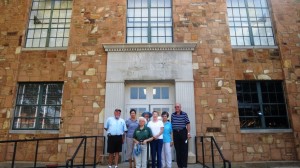 Janet Carson, Extension Horticulture Specialist, Van Buren County Judge Roger Hooper, Bobbye Bennett, County Clerk and Master Gardeners Steve Smith, Eleanor Hilsenrath, Beverly Stencil, Dianne Percefull, Barbara Kottler and Marolyn Reck met at the Historical Van Buren County Courthouse in Clinton to discuss a new landscaping plan for the Courthouse grounds.
Judge Hooper asked Janet Carson and the VBC Master Gardeners to review the site and submit suggestions and a working plan to update the landscaping to complement the newly renovated native stone Courthouse that was originally constructed in 1934 with the assistance of the Works Progress Administration's (WPA).
Carson stated; "It (the courthouse) is a neat historical building and with the right landscaping it will look fantastic." "They plan to put in a sprinkler system and plant the entire property, which right now is almost a blank slate."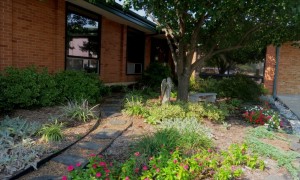 After reviewing the Courthouse area the group toured the VBC Master Gardeners projects at the Courthouse Annex on State Highway 65. The Master Gardeners took this opportunity to show off some of their large landscape projects planted with a wide range of diverse plants and maintained by the Master Gardeners. Judge Hooper could not say enough nice things about the hard work and beautification efforts of the VBC Master Gardeners.
Anyone interested in becoming a Master Gardener can call Danny Griffin, VBC Extension Agent, 745-7117 or Eleanor Hilsenrath, President VBC Master Gardeners, 501-252-7272 for an application for the 40 hour training sessions. Applications are due by October 23. 2013 Classes will be held each Tuesday November 5, 2013 through December 3, 2013.
This meeting is open to all eligible persons without regard to race, color, national origin, religion, gender, age, disability, marital or veteran status, or any other legally protected status. Persons with disabilities who require alternative means for communication of program information (large print, audiotapes, etc.) should notify the county Extension office as soon as possible prior to the activity.