Join us for all the great events at the Conference & Visitor Center.
EVER TUE – Sept 15th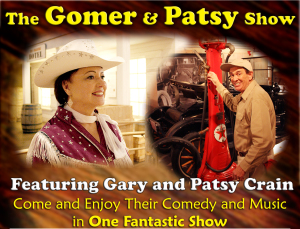 Gomer & Patsy Show which will continue to be every Tuesday night.  It will be held in our Performing Arts Theatre from 7:00-9:00 p.m.   Adult tickets are $15.00, children 6-12 is $10 and children 5 and under are free.
Ladies Night Out is first Monday of each month.  Light dinner @ $5:30 and a   Movie @ 6:30.  Donation of $10
Ready for an Encore?
While at the Conference Center, enjoy an "ENCORE" celebration at our Newly opened bar just located off the lobby–opens pre-show and during intermission for drinks and socialization.  ENCORE opens at 5:30 p.m.
JUNE
June 4th  Ladies' Night Out—Movie & Dinner. Light Dinner & Movie.  Donation of $10.  Reservations requested, but not required.
JULY
Steel Magnolia in the Performing Arts Theatre
July 9th, 16th, 23rd and 30th at 7p.m.
July 12th "Downton Abbey Tea" sponsored by NCAFAE.
For more information about the Conference and Visitor Center visit www.FairfieldBayConferenceCenter.com, or call 501-884-4202.