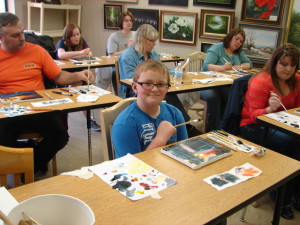 Weekly guests who attend our FFBCC Welcome Breakfasts on Monday mornings get to hear about all the wonderful things we offer them to do, see and learn. Many of the vacationers have taken advantage of our "In A Day" series of classes. I've heard lots of positive comments, ranging from, "I can't believe I was able to make this painting look so good!" to "I used to paint years ago, but have not had time to even think about it until now. I love it all over again!"
One of our youngest participants, Andy, was all smiles after he created his own masterpiece suitable for framing. He was surprised and happy at how well his painting of 'Sugar Loaf at Sunset' turned out. The family plans to frame this one and hang it up for all their friends back home to enjoy. Who knows, maybe this will prompt even more visitors to consider coming to the Bay for a break and time to discover new talents and revive old ones. The most attractive aspect is "come as you are-we provide everything you will need."
Some guests learned or renewed skills in "Crochet in a day" class with instructor ,Bettye Ann. They left with smiles, their created pieces, the crochet hook and more yarn to continue the pursuit of this craft/skill. Bettye Ann had a left-hander so, she had to think with both sides of her brain during this class! One woman just needed a refresher course but brought her teenage daughter to learn so they could share something fun to do.
We have plans to offer the basics of ceramics and pottery, more card making with Sandra, jewelry making, basket making and, of course, a real favorite – hiking in the Bay with a guide. We've had large families take advantage of this class at a very reasonable price of only $6 each. All you residents who have never ventured out to hike and see our gorgeous waterfalls (weather permitting) or fabulous overlooks please consider joining in. And of course, all our classes are open to everyone, residents and visitors alike. If you are not receiving our class schedules, please call 884-4440 to be put into our contact database for future emails. Be sure to "Like us" on Facebook at Community Education Center at Fairfield Bay, too. Regular posts of ongoing events and photos will help keep you up to date with our happenings.
Our biggest annual fundraiser helps us continue to offer a full range of courses to anyone who likes to learn new skills, keep up with the latest software programs and technology or revisit some hobby long since abandoned due to lack of time. "Cinco de Mayo" is coming up Friday, May 10 from 5 p.m. until 7:30 (or later!)
Tickets are on sale at the Education Center, the City Office or from any Councilman. Come to the Center anytime Monday thru Thursday, from 9 a.m. until 4 p.m. to purchase one or more ticket @ $30 each. You'll receive appetizers, a full buffet, plenty of music and a Silent Auction with some great gifts. There will be a cash bar complete with a Marguerita machine. The décor will add to your enjoyment as you enter Indian Hills Country Clubs version of a Mexican village, complete with our special mystery guest roving entertainer.