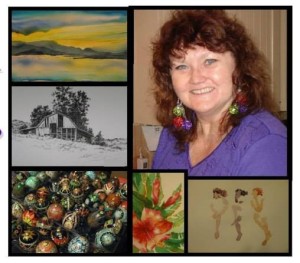 Community Education Center Offering New Class-Watercolor Art
At long last, the Fairfield Bay Education Center has found a watercolor art class instructor. The Education Center will be offering a three (3) day class sometime in the month of September. The class will meet on Tuesday and Wednesday mornings from 9 a.m. to Noon, and Thursday afternoon from 1 – 4 p.m. Day 1 of the class the student will create an art work of "Sunset-Reflected in Water", Day 2, "A Portrait Created from Snapshot" and on Day 3, the Student will chose what they would like to paint from the techniques they have learned in the first two classes.
Instructor – Sue Allen Pico.
This class is being taught by the accomplished Sue Allen Pico. Sue is a member of the NCA Artist League and served for ten (10) years as Executive Director of the North Central Arkansas Foundation for the Arts and Education. She is also currently on the board of the Clinton Art Guild and listed on the Arkansas Arts Council Roster of Artists in Education. Her personal art focus is stick, ink and watercolor.
The tuition cost for the class is $40.00 with an additional $10 supply fee (supplies to be purchased from the instructor). If you have not taken any classes at the Education Center in the last year, you will also have to pay the $25 Annual Administrative Fee before the class. If interested, please contact the FFB Community Education Center at (501) 884-4440.
Class Schedule listed. For all of you who are waiting for the Herb class—please note that we have scheduled two classes. A mint class in September and a vanilla class in October. See you in Class!