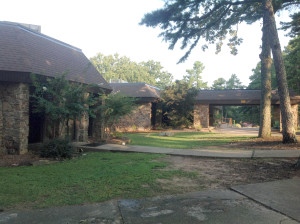 The two major Club initiatives undertaken in 2014 are in the final stages of completion.
New Greens at Indian Hills Golf Course – The Tiff Eagle Bermuda greens are loving this summer heat (much more than most golfers). The targeted reopening for the greens is Labor Day Weekend, just as anticipated. The patience of our local golfers who utilized the temporary greens for several weeks will be rewarded with the challenge of playing a familiar course with some exciting, new characteristics. Thanks for your patience!
Club/City/FFB News office relocation – The relocation to the Indian Hills Country Club site was completed ahead of schedule and under budget. All staff have been relocated and an open house was held Friday, August 22. There remains some "dressing up" of the lobby area to be completed, but you will encounter the reception desk as you enter the main lobby of the building. If you haven't yet seen the new location, grab lunch one day soon at Top of the Rock and take a look at the new offices while there.
Ozark Health Medical Clinic – With the relocation complete on the City/Club offices, construction is underway repurposing our former location to provide medical services to the Bay. Their targeted opening is November 1.
Community Club Board of Directors
Dwayne Miller