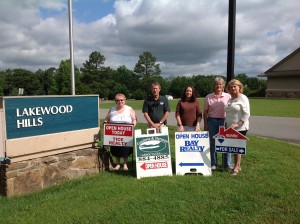 If you are looking for a condo, you'll be able to participate in the first of its kind open house event in Fairfield Bay on Sunday, June 22 from 1 – 4 p.m. and Monday, June 23, 10:30 a.m. to 2 p.m. You'll be able to see amazing values and variety in all price ranges and sizes with prices starting as low as $15,000.
Join in the fun and see the selection of condos in Fairfield Bay for your residence, vacation get-away or rental property. A Real Estate Agent will be present at each property to answer questions and provide information to guide you to other units in the open house tour. A loan officer from Eagle Bank will be available to answer your financial questions.
Watch for signs to visit these condos. Start any place convenient for you.
Chelsea #72 – 601 Dave Creek Parkway
Cliffside #47 – 125 Chelsea Drive
Lakewood #56 – 135 Hillview Drive
Terrace #43 – 118 Richwood Drive
Country Club Ridge #2 – 601 Woodlawn Drive
Summerhill #3004 – 3004 Summerhill Place
This open house is sponsored by the Fairfield Bay REALTOR Council and Eagle Bank and Trust. The Council is comprised of the four locally-owned Brokers. Fairfield Bay Realty owner, Shirley Johnson; Goodwin & Herman Associates owners, Fred and Willena Herman; Re-Max On The Bay owner, Deb Ivanor and Tice Realty owner, Dale Tice. These Broker-Owners have recently joined efforts to promote Fairfield Bay, address issues that concern Fairfield Bay specifically to make our community a better place to live and experience.
"We came to Fairfield Bay in 1983 and have owned Goodwin & Herman Associates for over 16 years. Our goal is to share our love of Fairfield Bay with others and commit to helping the community appeal to those who come here to live and spend vacation time," states Willena Herman.
Dale Tice is a native of the area having grown up in Shirley – as her husband put it many time, "before the lake." She watched Fairfield Bay grow, having worked first for the original developer, then later for a property management office and finally opening Tice Realty in 2005. She lives in Fairfield Bay where she owns her home, a condo, and a lot. "I love Fairfield Bay and enjoy selling Fairfield Bay one memory at a time."
Shirley Johnson of Fairfield Bay Realty, Inc. states "I have been in some form of real estate since 1969. Our goal has always been "Serving and Selling Fairfield Bay." The local realtors in Fairfield Bay have joined together to promote our area and bring an awareness of what our area has to offer."
Deb ivanor, Principal Broker and Owner of Remax on the Bay, bought her first Fairfield Bay lot in 1977. She brought her parents back here in 1979 to re-open the Wild Boar Family restaurant. Deb has a 30+ year committment to this great Fairfield Bay Community and the Fairfield Bay way of life.