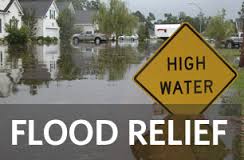 Beginning today, May 4th, until Thursday May 18th, the Disaster Relief Team will have four containers located in the Clinton High School lobby on the table by the trophy case in which the following items are needed to help provide support for flood victims. We appreciate the support that any and all can provide.
Items Needed:
Scouring Pads
Sponges
Scrub Brushes
Bleach (1 quarter or 82 oz. bottle)
Liquid Laundry Detergent (25 or 50 oz bottle)
All Purpose Household Cleaner (12-16 oz. bottle)
Dust Masks
Disposable non-latex gloves
Work Gloves
24 count bag roll of heavy-duty trash bags (33-56 gallon)
Insect Repellent (pump spray, paper towels, paper plates)
Bedding ( new of slightly used blankets, sheets, pillows)
Paper goods (toilet paper, paper towels, paper plates)
Disposable plastic silverware
Shovels
Garden Racks
Brooms
Mops
Trash Can
Rubber Boots (all sizes)
Tube Socks (all sizes)
Flashlights
Monetary donations are always welcome. (such as Walmart Gift Cards)
Students and Staff may drop off donation items in the designated area anytime throughout the school day.