Cruzin the Bay Car Show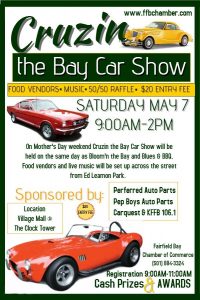 Upcoming event for the Fairfield Bay Chamber of Commerce is our annual Cruzin the Bay Car Show (Show & Shine). On May 7th from 9am to 2pm in the Village Mall parking lot next to the clock tower. There will be live music, Blues & BBQ, and Bloomin' in the Bay all on the same day. $20 to enter your classic car registration begins at 9am. If you enter more than one car, there is a discount. Cash prizes given away plus a 50/50 raffle. Come on out and enjoy the day in the Bay!
Monthly Welcome Wagon Coffee.
Save the Dates for Fairfield Bay's Welcome Wagon Coffee Club. The fourth Thursday of every month we meet at the Fairfield Bay Conference Center at9am.
Our Business After Hours dates are May 26th, August 25th, and November 17th. Come get to know your neighbors and our area businesses at one of these exciting events!
If you are not a member of the Fairfield Bay Chamber of Commerce, go to our website and take a look and see all we have to offer you as a business. We look forward to serving you! Web address: www.ffbchamber.com Phone: 501-884-3324