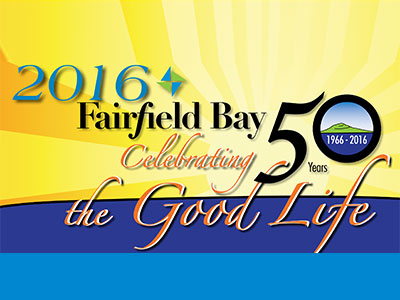 2016 is a year to celebrate
"As we look back on our heritage of the past 50 years, what shins so brightly is the good life we have been given here in Fairfield Bay. Every day, we experience and share in the blessings of this beautiful community: the trees, the wildlife, the lake and most importantly – each other. May the next 50 be even more glorious."
~ Mayor Paul Wellenberger
It's hard to believe that Fairfield Bay was actually formed just 50 short years ago, and there's a rich, vibrant history to be shared. Over the course of the year, we will be doing just that. We have many exciting event all year long that we can't wait to share w/ you. So mark your calendars.
Beginning in January, the Fairfield Bay News will have a column featuring some of the Bay's most interesting residents. Read about how they came to Fairfield Bay, and why they chose to stay and live the good life.
Then, on April 23, a city-wide celebration will happen, featuring food, activities, and fun for the whole family. Stop by the Conference and Visitor Center to see all the historic items on display, such as photos and news clippings, collected since the very first days of Fairfield Bay.
In May, join us for one of our newest events – Blues & BBQ in the Bay, held in conjunction with our Bloomin' in the Bay festival. BBQ vendors from all around will be there to tempt you with their best BBQ, and the sounds of blues will be filling the air. Don't miss out!
July 3rd. The celebration does not end there! Be sure to join us on July 4th, as we celebrate not only the birth of this great nation, but also as we celebrate 50 years of the good life, with parades, games, and more family fun.