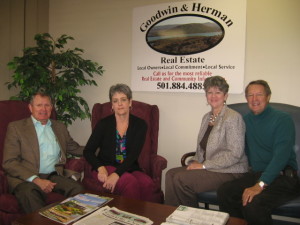 A friendship that goes back over 30 years made perfect sense for Roger and Diana Goodwin, and Fred and Willena Herman to create Goodwin & Herman Associates Real Estate. There was positive growth in Fairfield Bay with the Chamber of Commerce and the Community Club working together. They felt it was a perfect time as the future looked bright for Fairfield Bay.
Goodwin & Herman opened their office in the Conference Center in 1998 and when the conference center closed they moved into the office on Lost Creek, where they stayed for 12 years. Last week they made another move to the Fairfield Bay mall located at 358 Dave Creek Pkwy, Suite D. "We're so excited about celebrating 15 years of uncompromising service of the leading Real Estate agency in the Bay," said Willena. There are positive changes in the Bay once again with the leadership in the City and the Community Club. The future looks good for real estate sales and Goodwin and Herman has the team that has proven success and longevity in Fairfield Bay. Most importantly, our success would not have been possible if it wasn't for the support of the people in Fairfield Bay," said Willena. "In the long run hard work pays off and we are a partnership that works well as a team."
Come out and enjoy free Petit Jean hotdogs, Yoder's popcorn and Pepsi during a live remote by KFFB from 10 a.m. To 1 p.m. and a ribbon cutting a 1 p.m.