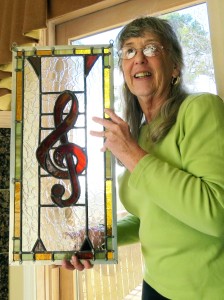 The North Central Arkansas (NCA) Art Gallery invites Painters, Stain Glass Artists, Photographers, Potters & Sculptors to submit artworks for the 2014 NCA Spring Exhibit March 3-July 14th, located in Our Towne Conference & Visitors Center, 110 Lost Creek, Fairfield, Bay.
The juried exhibition is open to all artist eighteen years or older. Guidelines, Entry Forms, & Identification Labels may be picked up at the Conference Center Office or NCAAL members from Bonnie Hookman at the Bayside Art Studio. Artists may submit 5 pieces of art for the Selection Committee. For more information contact Conference Directors Wilba or Bob Thompson, 501-884-4202, e mail: [email protected]
IMPORTANT DATES: Feb. 17 (Mon.) – deadline to send Entry forms. Forms may be dropped off at the Conference Center office or mail to NCA Art Gallery, P.O Box 1676, Fairfield Bay AR., 72088. NCAAL members submit forms to Bonnie Hookman Mar. 3, 10:00-10:30 a.m.
Deliver Artwork to the NCA Art Gallery, 110 Lost Creek, and Fairfield Bay. A juried committee will select the Artwork. Paintings not accepted may be picked up at the Art Gallery. (Mon. afternoon or Tues.-Fri. 9:00-5) Mar. 9, (time TBA) Opening Exhibit & Reception. July 14-, 10:00 a.m. Closing of exhibit.
Shown in photo is Stain Glass Artist, Karen Gehl. Karen Gehl is one of our artists that are preparing her glass art for the next NCA Art Exhibit. She has beautiful artwork currently on display in the Art Gallery. Karen designs and fabricates with light and colored decorative art glass here in Fairfield Bay. Art in all forms have been constant interests of Karen's. She has enjoyed drawing, painting and producing pottery on a wheel. It was not until after retiring that creating with glass came to be the art of choice. Primarily self- taught, the challenges of glass provide many avenues for creative thinking. Karen is proud to be an active member of the Arkansas art community and enjoys the friendship of fellow artists. She is a member of the North Central Arkansas Art Gallery here in Fairfield Bay and the Arkansas Craft Guild & Gallery in Mountain View.