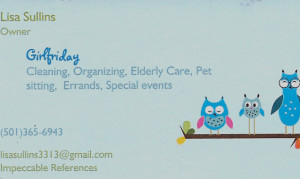 A "girlfriday" is usually a female assistant entrusted with a wide variety of tasks. Lisa Sullins' helping hand business offers all the aspects of cleaning you may need including professional organizing (just like on TV's hoarding and clutter shows), pet sitting, errands and light office duties including packing and shipping packages. Her training as a CNA and activity assistant will give you the friendly, caring, unique attitude for caring for the elderly. She will help you plan a special event, and even do your windows! The possibilities are endless.
Lisa, as your Girlfriday, does not work just from 9 to 5. She is committed to providing the services you need, when you need them. If you feel overwhelmed in your life with clutter or perhaps have a physical disability that prevents you from doing the chores you used to do, you can rely on Lisa with her extensive experience and training to take control and create the life you want.
Lisa is no stranger to the lake area, having spent many hours in the Higden area on extended family vacations when she was growing up. She established her business while living in Georgia, but has now, as if seven months ago, made the lake area her permanent home.
Future plans are to offer "lunch and learn" organizing seminars to social, civic or business related groups. If you are interested in any of Lisa's Girlfriday services, call her at 501-365-6943 or email her at [email protected] for a free estimate with no obligation. Look for her ad in this issue of the newspaper. Welcome home, Lisa.