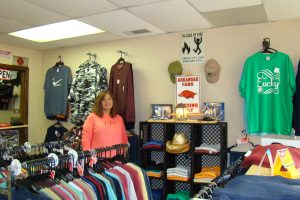 Pictured above is Dina Freeling of Fairfield Bay and she is proud to have opened her new shop, His & Hers Tees and More in the Fairfield Bay Mall down from Edward Jones.
Dina originally started her shop in Shirley but quickly grew out of it and was very happy to find a spot in the Mall.
As the name states Dina carries shirts, hats, yard signs, banners, business cards, fragrances and so many other items that can be custom made to your liking for both men and women. There is a catalogue with over 7,000 transfers to choose from. They also do custom rhinestone and vinyl.
There are two levels of tanning beds (regular and bronzer) and the cost is either $25 per month, all you can tan or $4 per session.
"If it's a good deal for us, it's gonna be a great deal for you," said Dina.
Specialty orders are welcome and if she doesn't have i,t Dina will do her best to get it for you.
Be sure to bring in the coupon on this page to get an extra 10% off your purchase.
There are hand knitted items as well.
With Valentine's Day coming up, they have gift sets for men and women and will do custom items.
The shop is open Monday & Saturday from 9 a.m. to 1 p.m., Tuesday through Friday from 9 a.m. to 5 p.m. during the winter months.For more information you can contact Dina at 501. 884.3113.