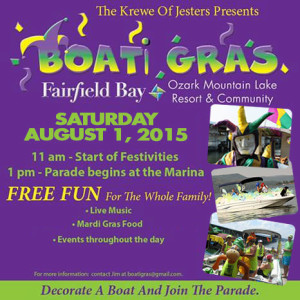 Join The Krewe of Jesters for the 3rd Annual Boati-Gras Celebration
Ever want to be on a parade float, especially a Mardi Gras float? Well, here is your opportunity. The Krewe of Jester, FFB, is ramping up a party on the lake called Boati Gras and all are invited.
Held annually on the first Saturday in August, Boati-Gras 2015 is on Saturday, August 1st, where a grand showing for the parade of boats at the Fairfield Bay Marina is a sight to behold. To be in the parade, all you have to do is decorate your boat anyway you want and join us outside the marina break-water at 11am. Organized in the summer of 2012, by Jim Beach and his "lil sista" Liz, to start Fairfield Bay's version of Mardi Gras and this summer time boating event just keeps getting bigger each year.
"In February, it's way too cold to spend much time out on the water," commented Liz Beach, "so we chose August when the weather and water are much more inviting to friends and frolic. Yes, I said frolic! The whole point of Boati Gras is to get outside in the water, have some fun, and not take ourselves too seriously."
Decorate your boat in festive MardiGras regalia – purple, green, and gold (or not) and line up to join the parade. Or stay on shore or at the dock to catch a few beads! Great fun for the entire family. If beads and rubber ducks sound like fun, c'mon down!!!
Why should N'Awlins have all the fun?!
For more information, go to: FairfieldBayStartsToday.com/Oktoberfest or contact his Royal Jesterness, King Jim at [email protected] It's all about good clean fun on the lake, and it's free to participate. Start your own Krewe and be a king (or Queen) yourself. It's good to be King!
Mark Your Calendars for another fun water celebration coming up Saturday, September 26th with Paddle Battle at the Fairfield Bay Marina. Kayak, Canoe and Standup Paddleboard races for both novice and experienced racers. Kayak, Canoe, SUP, Paddle Boats and Pontoon Boat Rentals! Fun for the whole Family!
Schedule (approx. "fun times")
• 11 – 11:30 am – gather at the dock (Fairfield Bay Marina)
• 11:30 am (or so) – the King's Procession
• Second-line band escorts the Royal Personage & entertains the loyal subjects
• A few words from the Town Cryer
• Introduction of His Royal Highness and Court
• A few words of Wit & Wisdom from His Royal Jesterness
• His Most High Bester Jesterness leads the crowd in a line-dance
• The Town Cryer tells us all what's really going on (because only he really knows)
• A few jokes, a little music, yadda yadda
• 12:15 pm (or so) The Town Cryer instructs the Fleet
• Boats line up
• Pastor Ken conducts The Blessing of the Fleet
• The 2015 Boati Gras Boat Parade begins
• Beads and rubber ducks and candy canes come ashore
• Merriment ensues
• 1:30 pm (or so) Award/Trophy presentation
• Music on the dock